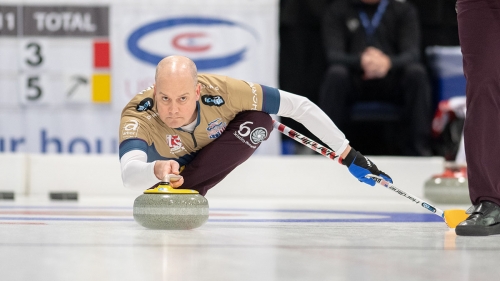 BLAINE, Minn - Curling is officially back in the States (photo by Rich Harmer).

By Price Atkinson.

After a lengthy layoff that began in early March due to ongoing COVID-19 pandemic, athletes hit the ice at the Four Season Curling Club to compete in the Goldline 2020 U.S. Open of Curling Contender. And Delaney Strouse and Rich Ruohonen's respective rinks walked away with the titles Sunday afternoon in the first meaningful event played here since the U.S. Nationals back in February.

In a back-and-forth battle between a pair of teams that know each all too well, Ruohonen outlasted Korey Dropkin's YoungBucks 7-3 after stealing three in the seventh to clinch the win. Strouse stormed back from a 5-0 deficit to eclipse Rachel Workin's rink 7-6.

The wins were important, but it was the return to competition that was most noteworthy.

"It was great to finally get on the ice and play after taking about a six-month hiatus due to the pandemic," Strouse, the 2020 U.S. Junior National skip said. Strouse is joined by Leah Yavarow at third along with Sydney Mullaney and Rebecca Rodgers on the front-end.

"Just getting on the ice and getting some games in was amazing but winning it was pretty special.

Related:
> RE-WATCH: Women's Final - Strouse vs. Workin
> Delaney Strouse Wins Goldline US Open Contender:




With new coach and veteran curler Courtney George directing Team Strouse for the 2020-21 campaign, the squad posted a perfect 5-0 mark on the week en route to the title. But it was far from easy in the final against Workin's side.

Strouse fell behind 5-0 after three ends, forcing them to dig deep just to even get back in the game, which is exactly what they did in the fourth end, grabbing five to tie it.

"(The deficit) was a little bit foreign to us, being ahead on the scoreboard all weekend," the Midland native said. "Honestly, we just had to get gritty and there's no specific way to do that other than dig deep and use every single rock and angle to our advantage.

"We got a break with Rachel's last to score our five which put us back in the game. I think we decided then and there that we weren't going to lose now."

Strouse stole singles in the fifth and sixth to score seven-straight points and take a 7-5 lead. Workin could only muster a single in the seventh for the game's final margin.

"Our main goals this weekend were being supportive and cohesive as possible, and we accomplished that," Strouse said. "We worked hard on developing team systems which really brought our game to the next level."

Related:
> RE-WATCH: Men's Final - Ruohonen vs. Dropkin
> Rich Ruohonen is Goldline US Open Champion:


Ruohonen with new addition Andrew Stopera in the lineup at third, with Colin Hufman at second and Kroy Nernberger at lead opened the season with strong performance against Korey Dropkin.

Ranked 14th in the world to begin the season, Dropkin's rink started the game with hammer and blanked the first-two ends before settling with a single point in the third after rolling too far for his second point.

In the fourth end, Ruohonen scored two on a short runback, then in the fifth end, looking like a certain steal, things unravelled for skip Rich Ruohonen on his two rocks, gifting Dropkin two points.

The team played a better sixth end, drawing for two points to take a 4-3 lead into the seventh end, where Dropkin was forced into gambling for the game, giving Ruohonen the steal of three to seal the win.

"It was great to be back out there after about six months," Ruohonen, a successful trial attorney in the Twin Cities said. "It has been a strange week, as I had my first COVID trial at work and now my first COVID curling game.

"Everybody everywhere is working hard to try to get back to some semblance of normalcy, while still keeping everyone safe. This is a huge step for USA Curling. I hope it works out with no problems and we can move forward from here."

The event also marked the first time this season that teams were only permitted to use one sweeper due to new safety rules set forth by the United States Curling Association.

"It was weird getting used to, but I think we adapted well," Strouse said. "I believe we have some of the best sweepers in the country, so I wasn't too concerned about not having two of them. But it'll be nice when we do get back to that normalcy."