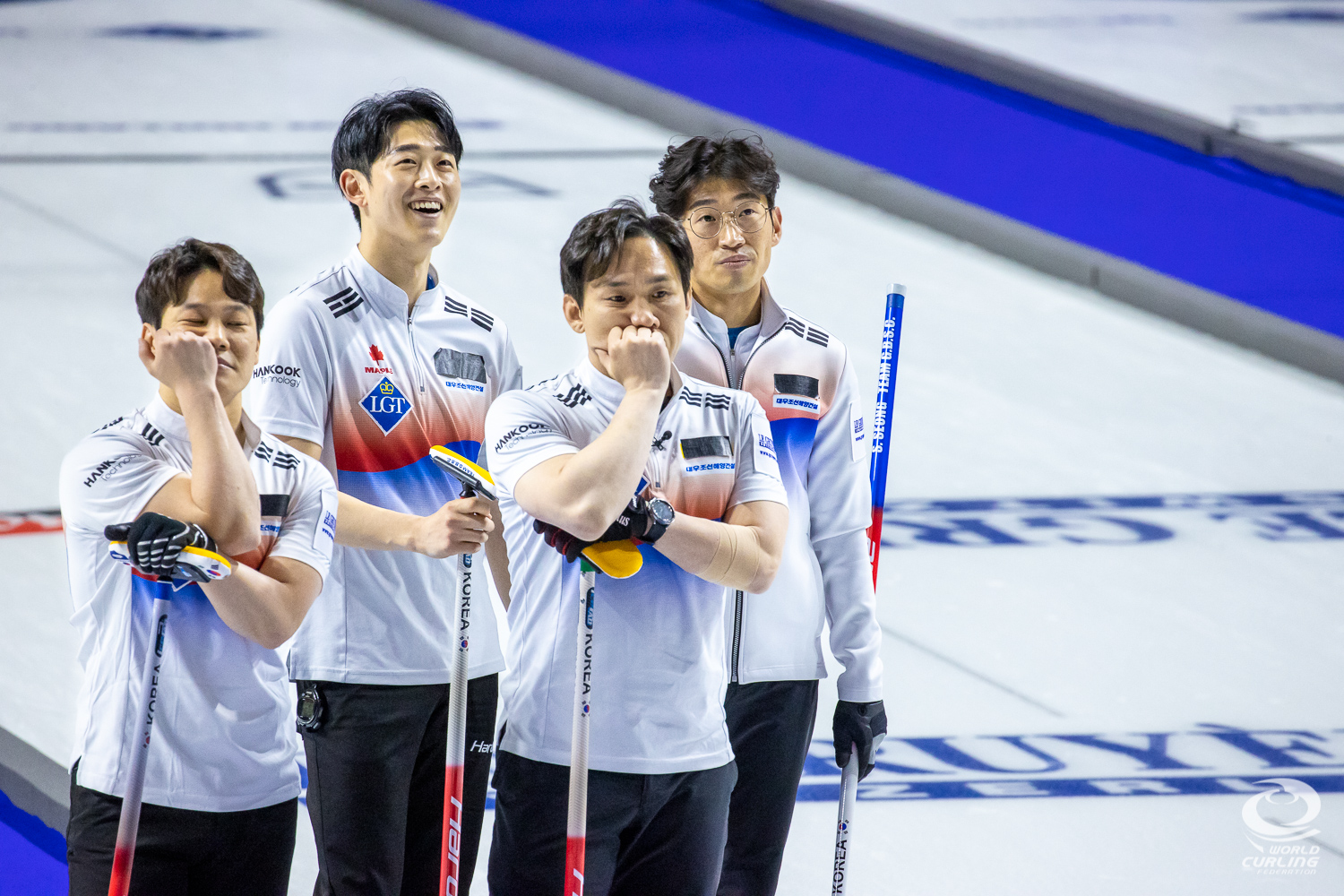 Gyeongbuk Sports Council skipped by Kim Chang-min (Photo: Steve Seixeiro/WCF) are currently tied for first at the 2022 Korean Curling Championships with a 5-1 record.

By: Cameron Sallaj

Three of the four men's playoff spots at the 2022 Korean Curling Championships have been decided with only one round robin draw left to go. So far, Gangwon Province, Seoul City Hall, and defending champions Gyeongbuk Sports Council all qualified for the knockout round with 5-1 records.

Gangwon Province were the first men's team to secure a playoff spot after winning five consecutive matches across their first five games. The team, consisting of skip Jeong Yeong-seok, third Park Jong-duk, second Oh Seung-hoon, and lead Seong Ji-hoon are newly formed for this championship with regular members Lee Ki-jeong and Lee Ki-bok serving military duties.

While skipping the Gyeonggi-do Curling Federation team, Jeong and his team won the 2020 Korean Curling Championships and finished with a 2-11 record at the 2021 World Men's Curling Championship. Third Park and second Oh were both members of the Gangwon team that finished runner-up at the 2021 national Championship. This week in Jincheon, this new rink hope to continue their immediate success and secure the national title. In their final round robin game, Gangwon Province will take on Seoul City Hall.

Seoul City Hall are also among the leaders, also with a 5-1 record. The team of skip Jeong Byeong-jin, third Lee Jeong-jae, second Kim Min-woo, and lead Kim Tae-hwan won four consecutive matches before their loss to Gyeongbuk Sports Council. They then rebounded by defeating Gyeonggido Curling Federation to once again sit tied at the top of the standings.

Two of the members of the Seoul City Hall rink are former members of the Kim Soo-hyuk team that won bronze at the 2018 Pacific-Asia Curling Championships. They later went on to a 1-11 record at the 2019 World Men's Curling Championship in Lethbridge, Alberta. This week, the team from Seoul will look to earn the national title for the first time since 2018.

The third men's team that have secured a spot in the playoff round are the defending champions Gyeongbuk Sports Council. The team, with fourth Kim Soo-hyuk, skip Kim Chang-min, second Seong Se-hyun, lead Kim Hak-kyun and alternate Jeon Jae-ik began their title defence with three straight victories before a surprising loss to Kyungil University's junior team. They then won two more games to match the records of Gangwon Province and Seoul City Hall, however, currently hold a 2-0 head-to-head record against both of those rinks. If they are able to win their final round robin game against Uiseong High School's Lee Jun-hwa, then they would automatically secure the top seed in the playoff round.

During their time as national champions, Gyeongbuk Sports Council began on a high by winning the 2021 Pacific-Asia Curling Championships. They then competed in the Olympic Qualification Event, where they were unable to qualify Korea for the Olympic Games after a 2-6 record. They returned in April to the 2022 World Men's Curling Championship where they just narrowly missed the playoffs with a 6-6 record. Gyeongbuk Sports Council were the top seeded team entering the 2022 championship and hope to hold onto their title again this year.

The fourth playoff spot is still up for grabs and could go to any one of four remaining rinks. Gyeonggido Curling Federation, skipped by Kim Jeong-min, are currently in the best position to take the spot with a 3-3 record, while Kyungil University, Seoul Physical Education High School, and Uijeongbu High School all trailing with 2-4 records. Gyeonggido Curling Federation are set to face Seoul PE High School in the final round robin draw, while Kyungil University and Uijeongbu High School will also duke it out.

The winners of the 2022 Korean Curling Championships will represent Korea at the 2022 Pan-Continental Curling Championships in attempts to reach the 2023 World Championships.