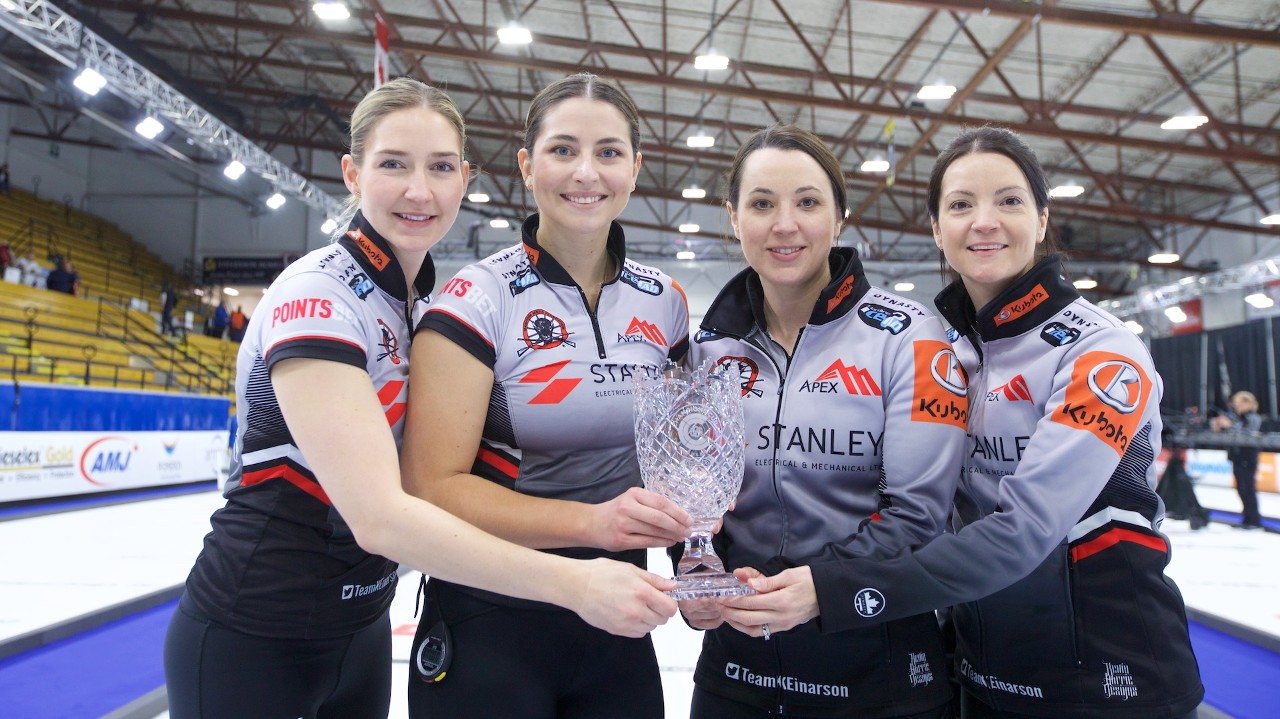 Manitoba's Kerri Einason (Picture: GSOC/ Anil Mungal) won the 2022 Champions Cup on Sunday, capping off a remarkable four-year cycle for the team.

By: Dylan Chenier

After victories in Saturday's semifinals, Kerri Einarson of Gimli faced South Korea's Un-chi Gim in the championship final of the 2022 KIOTI Tractor Champions Cup in Olds, Alberta.

The three-time reigning Scotties champions controlled most of the game from the outset, scoring two in the first end and picking up a steal of one in two to lead 3-0 early on.

After Team Gim scored two in three, Einarson would respond in the fourth with a quadruple to lead 7-2 at the break.

Coming back in five, Team Gim kept their game alive with a single point, before stealing two in six and one in the seventh. With just one end to go, the Koreans trailed by a single point, but Einarson would have the hammer, up by one, in eight.

The eighth and final end would see Team Einstein score three points, taking the win 10-6.

CHAMPIONS! 🏆

So excited to end off the season with a win! Thank you @grandslamcurl for another great event. pic.twitter.com/aqc7NhOm5o

— TeamKEinarson (@EinarsonTeam) May 9, 2022

The victory marks Einarson's first Champions Cup win and fourth-career Grand Slam title. The skip from Gimli last won on tour at the 2021 Players' Championship in Calgary.

Today's game marks the end of a remarkable four-year cycle for Team Einarson, one in which the rink won three-consecutive Scotties titles and a world championship bronze in 2022.

Next year, the foursome plans to stick together as they chase more national championships in the hopes of making the 2026 Winter Olympics. Should Team Eianrson win a fourth-consecutive Scotties next year, they would tie Colleen Jones for most tournaments won in a row.

Meanwhile, Team Gim finishes the week as runners-up on the women's side, marking their best-ever Grand Slam performance. The rink played in all four Grand Slam events this season, failing to make the playoffs in the first three, before their breakout campaign this week in Olds.

With the 2022 Champions Cup now in the rearview mirror, the 2021-22 Grand Slam season has officially come to an end. This year saw two different winners on the men's side while three women's rinks took home titles.

This year's tour saw a reduced tournament count due to the COVID pandemic, with only four events being run. Next year will see six Slams being held over the course of seven months, with the return of the Tour Challenge and Madridian Open.

The 2022-23 Pinty's Grand SLam of Curling season officially gets underway in October, with the BOOST National set for North Bay, Ontario.