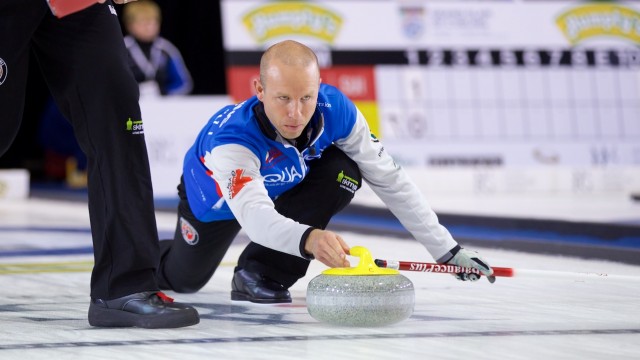 Kyle Doering and Colton Lott were hoping to re-capture some four-year-old magic when their Winnipeg team enticed Pat Simmons (photo: Anil Mungal) back into competition for this fall.

By Resby Coutts - thecurler.com for CurlingZone.

This weekend, a trip to Simmons' home province for the IG Wealth Management Western Showdown in Swift Current is a key part of their quest.

The IG Wealth Management Western Showdown will feature 24 men's teams playing a triple knockout format with the playoffs held on Monday at SaskTel Curling Stadium Swift Current where all games will be available to watch through CurlingZone's Youtube channel.

Four years ago, Doering, Lott and Rob Gordon had qualified for the Pre-Trials and needed a skip.

With Pat Simmons calling the shots, the team qualified in the first four bonspiels of their season, including reaching the quarter-finals of their first-ever Grand Slam event, in Regina. Their high hopes for
the Pre-Trials that year didn't materialize, but they still had a great year, qualifying for two more Grand Slams that season.

"We were two years out of juniors, and we had a great season. Qualifying in that first Grand Slam is still one of my best memories in the sport," Doering recalls.

Fast forward four years into a season shaped by Covid and Doering, Lott and Tanner Lott found themselves needing a skip again. Despite the fact, their former skip had not played an entire season since - there was no doubt who they wanted. They had enjoyed playing with Pat Simmons and had won with him.

Two years ago, skipped by Tanner Horgan, they had gained a lot of attention and success – and, as fate would have it, earned the second Pre-Trials berth.

"Without Covid, we'd have stayed together last year, and I'm sure we'd still be curling together," Doering said recently as he reflected on the change in the team.

"But Covid has changed everything. It was a tough decision for Tanner (Horgan) to stay at home in Ontario this year."

Coming off modest success at the Atkins Classic in Winnipeg, when Doering, Tanner Lott and fifth Emerson Klimpke reached the semi-final, Doering says he is hopeful that the trip to Swift Current can be as successful as that trip to Regina four years ago and that it will help set them up for a successful run at the Pre-Trials at the end of the month in Liverpool, NS.

"We have lost a full season, and we have only played one event as a complete team, 1 and 3 in Oakville," Doering says, realistic about their chances in this next event.

Success for Team Simmons in Swift Current will be defined in many ways.

Playing many games together and trying to re-capture that four years ago magic is crucial as they look ahead to Liverpool.

Doering says they get much appreciated sponsorship support from Badger Daylighting, Allquip Industrial Supplies, and a few smaller sponsors.

However, like almost every other team on tour, cashing a cheque is also important to replenish the team budget and make that next trip possible.