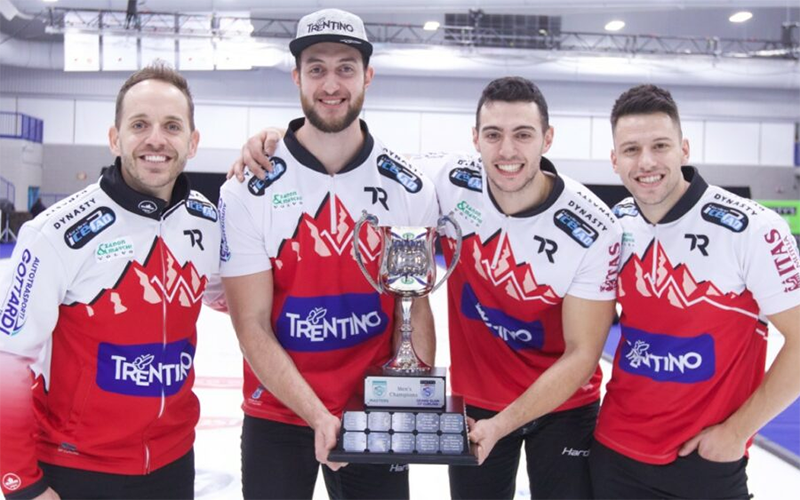 Joel Retornaz (Trentino, Italy)(photo: Anil Mungal/GSOC) wins the WFG Masters, defeating Bruce Mouat (Stirling, Scotland) 6-2 in the final at Sixteen Mile Sports Centre in Oakville on Sunday.

Retornaz with Amos Mosaner at third, Sebastiano Arman and Mattia Giovanella on the front end take home the $35,000CDN first place cheque along with 75.000 world ranking points, while Mouat receives $20,000CDN and 55.000 world ranking points for their second place finish.

Starting with hammer, Retornaz scored 1 in the first end, then added single point steals in the second, third and fourth ends to jump out to a 4-0 lead.. Mouat scored 2 in the fifth end, then forced Retornaz to a single in the sixth end. In the seventh end, Retornaz stole another point and Mouat conceded the game to the Italians by a score of 6-2.

The win for Retornaz is the first Grand Slam title for an Italian team and the team from Trentino becomes the third European men's side to claim Grand Slam win after Sweden's Niklas Edin and Mouat. The win is also the third of the season for Retornaz, after winning the Euro Super Series in September and the Grand Prix Bern Inter Challenge in October.

In the semifinals, Retornaz defeated Calgary's Brendan Bottcher 3-1 in an extra end and Mouat defeated Norway's Magnus Ramsfjell 7-1. Ramsfjell and Bottcher earned $15,000CDN and 42.500 ranking points for their semifinal finishes. In the quarterfinals, Retornaz defeated Switzerland's Yannick Schwaller 6-2, Mouat defeated countrymates Ross Whyte 5-3, Ramsfjell won 7-3 over Oskar Eriksson and Team Edin while Bottcher needed an extra end to win 5-4 over Brad Gushue of St. John's.

Retornaz finished 3-1 in the 16 team round-robin qualifying round. In their opening game, Retornaz defeated Colton Flasch (Saskatoon, SK) 7-2, then went on to lose 6-5 to Eriksson. Retornaz responded with a 7-6 win over Marco Hoesli (Glarus, SUI) and then won 9-3 against Kevin Koe (Calgary, AB) in their final qualifying round match.