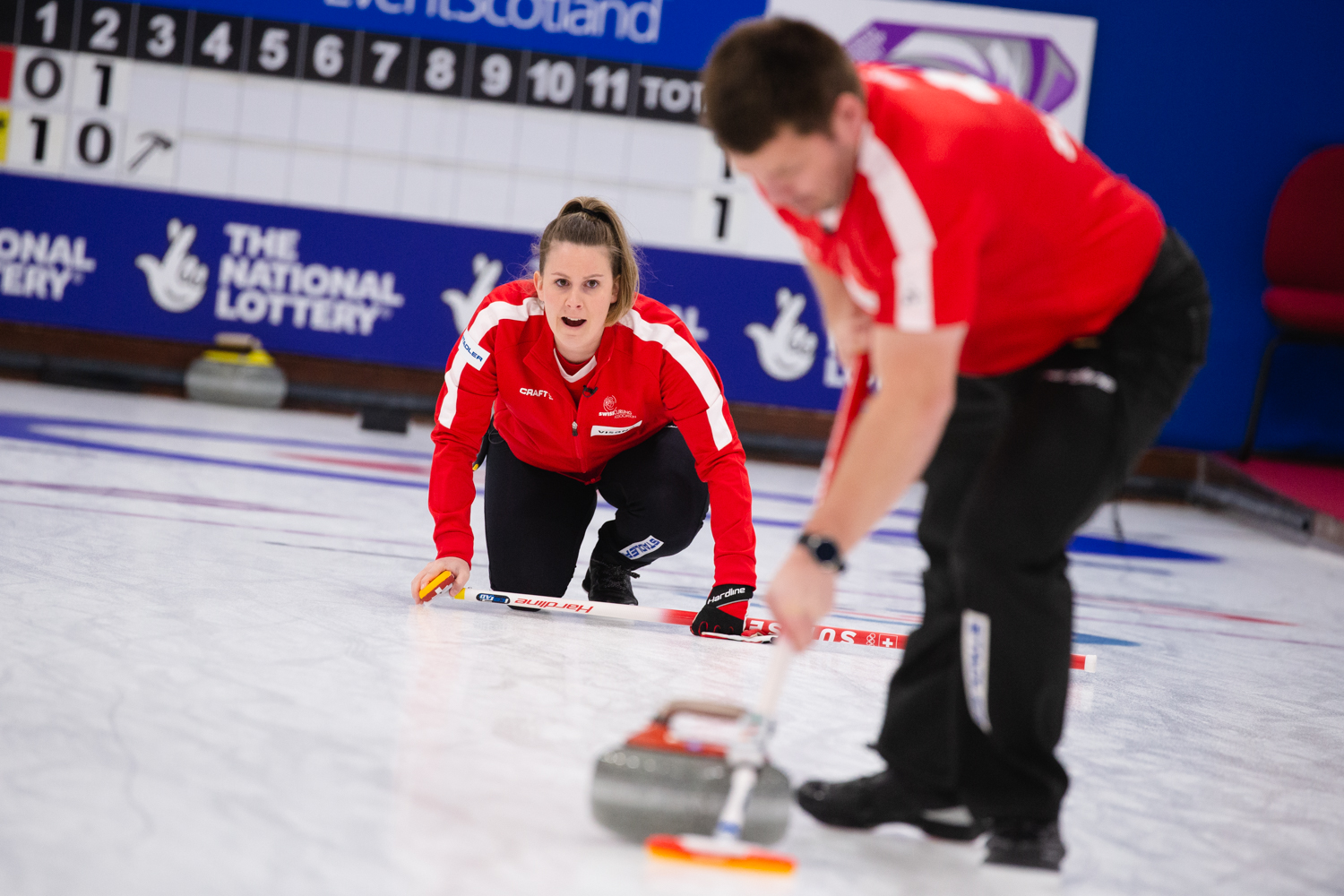 2018 Olympic silver medalists Jenny Perret and Martin Rios are now 2-1 with one game left to go at the Winnipeg Open (Photo: Celine Stucki/WCF).

By: Cameron Sallaj

Draw 5 of the Winnipeg Open Mixed Doubles Super Series saw Switzerland's two-time Olympic mixed doubles representatives Jenny Perret and Martin Rios take a big step towards qualifying for the ten-team playoff round with their second victory of the event. The pair, based in Glarus, Switzerland, faced previously undefeated Estonian pair Marie Kaldvee and Harri Lill.

Things started well for the Swiss in all European contest as they were able to count two with hammer in the opening end. This was responded to with one by the Estonians in the second.

Perret/Rios, who are currently world number one ranked in the mixed doubles standings, regained their two-point advantage with a count of one in the third. They then opened up a four-point lead by swiping a steal of two in end number four.

Into the second half, the Swiss rink were able to steal another point to go ahead by five on Kaldvee/Lill. After Perret/Rios got their four consecutive stolen point in the sixth end, the Estonian team conceded with a final score of 7-1.

With the win, Perret/Rios move to 2-1 in Pool A with only one round robin game left to be played. They will face Anderson/Richardson (0-2; Chaska, MN) Friday at 6:00 PM Eastern Time where they will need a win to keep their playoff hopes alive. Kaldvee/Lill are now 1-1 with two preliminary round games still to go.

Elsewhere in Draw 5, Australia's Tahli Gill and Dean Hewitt (2-1; Brisbane) were 7-3 winners over Ashley Thevenot and Dustin Kalthoff (1-1; Saskatoon, SK) and Daniela Rupp and Kevin Wunderlin (2-1; Zug, SUI) won 6-3 over Catherine and Chris Liscumb (0-2; Ilderton, ON).

In two all Canadian battles, Peterman/Gallant (2-0; Calgary, AB) were 9-6 winners over Einarson/Einarson (2-1; Gimli, MB) while Kitz/Stewart (3-0; Regina, SK) remained undefeated with a 7-6 decision over Lyburn/Lyburn (0-2; Winnipeg, MB).

The Winnipeg Open Mixed Doubles Super Series event sees twenty-five teams split into five pools of five. Once the round robin stage is complete, the top ten teams will move on to the playoff round with the top six automatically advancing to the quarterfinals. The championship round will be played Sunday with the event final set for 4:00 PM Eastern Time.

SCORES, STANDINGS, and STREAMING LINKS on www.CurlingZone.com.