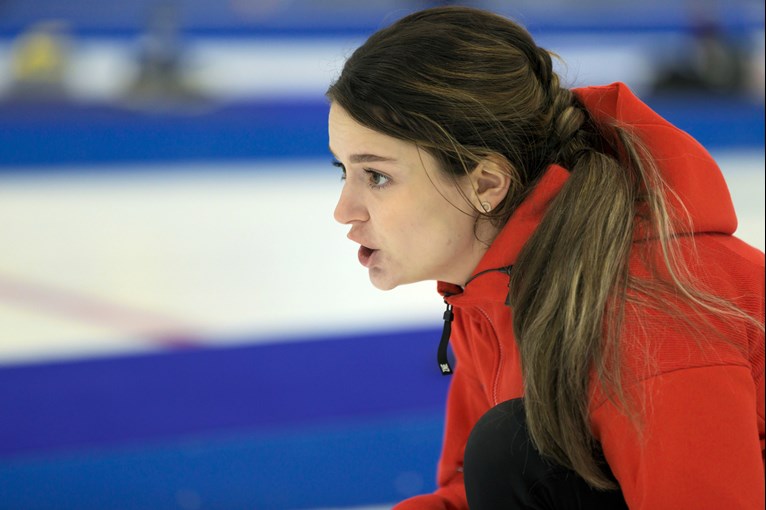 The reigning Scottish champions Team Morrison (Photo: Graeme Hart/Team GB) are set to lead the British Curling challenge at the opening event of the season on home ice when the Euro Super Series event takes place this weekend.

The Euro Super Series will be the first event to feature the new British Curling's women's squads following the decision of four time Olympian Eve Muirhead to retire from international competition and the subsequent decision of Olympic gold medal winning teammate Jen Dodds to focus exclusively on Mixed Doubles, of which she is a former World Champion.

Having worked within the nine player squad system which produced the Olympic title winning team, skip Rebecca Morrison believes that she and her teammates are ready to step up as the new Olympic cycle gets underway.

Morrison and teammates Gina Aitken and Sophie Sinclair ultimately missed out on going to Beijing, but since then they have recruited former Scottish champion skip Sophie Jackson and won the 2022 national title.

Reflecting on that last year of the Beijing Olympiad, Morrison felt the season ended with a sense of unfinished business after their World Championship debut was curtailed after two of the teams members tested positive for COVID, forcing them to withdraw from their first major event together just as the event got underway.

"It feels so good to be finally getting back into international competition as my team hasn't actually played a game together since the Scottish Championships because of our COVID situation at the World's," said Morrison.

"We felt like we were capable of a lot more at the Worlds but didn't get the chance as we couldn't finish that competition."

"So it was good for us to have a bit of a summer break away from curling, it gave us time to draw a line under everything last season because it wasn't ideal for us and we have come back with fresh minds and motivated."

"I think that is the biggest change for us. We have lots to look forward to and have big goals this season which we are really determined to make. So we want to make a sharp start to this weekend and show how much hard work we have been putting in over this last training block."

Team Morrison will face stiff competition if they want to repeat as Euro Super Series champions, however. Among the other ten teams competing are Germany's Daniela Jentsch, Italy's Stefania Constantini and Sweden's Isabella Wrana. They will also face three other tough Scottish rinks, one of which includes "golden girl" Hailey Duff, the only remaining member of the Olympic gold medal winning squad still in the women's roster.

Duff will bring the experience gained in winning the European Championships, as well as the Olympics, to a five player team that will be skipped by Beth Farmer and will also include Kirstin Bousie, Amy MacDonald and Katie McMillan.

The re-shuffle has also brought about the formation of another team skipped by Lucy Blair who will be accompanied by Lisa Davie, Holly Hamilton, Susie Smith and Alex MacKintosh.

"The start of a new Olympiad is inevitably a time of both change and opportunity for our leading curlers and everyone on the British Curling programme is looking forward to seeing how the players who have been selected respond to that," said Olympic Head Coach David Murdoch.

"Both the support staff and players go into this new season fuelled by the confidence we can take from the successes that have been achieved across the programme over the past two years from Olympic, World and European wins at senior level to gold medal success at the World Juniors."

"However we also know that the world of curling will not stand still and we must keep working hard in every facet of the game if we are to build on those successes and it will be great to start testing ourselves in this first competition of the new campaign at our own training base at the National Curling Academy in Stirling."

The women's Euro Super Series will run from August 18 to 21 with the men's event scheduled to take place from August 25 to 28. The women's draw will begin play Thursday morning at 8:30 in Stirling.

The opening women's matches will feature Pool A action with Isabella Wrana against Lucy Blair, Michele Jaeggi against Fay Henderson and Stefania Constantini going up against Marianne Rorvik. Pool B will then take to the ice and will feature Raphaela Keiser against Beth Farmer and Rebecca Morrison versus Eirin Mesloe. Daniela Jentsch's team has a bye in the opening round draw.

SCORES, STANDINGS and STREAMING LINKS at www.CurlingZone.com.