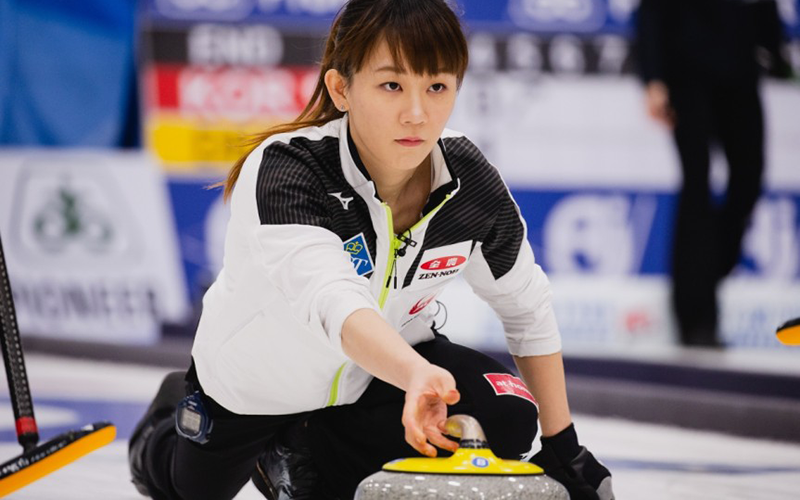 2021 Japanese champions Ikue Kitazawa (Photo: Celine Stucki, WCF) among Eight women's and eight men's teams begin the season at Dogin Curling Stadium in Sapporo.

In June at Hokkaido Athletic Centre, Hokkaido Curling Association had a press conference to announce a new curling tour series, "Hokkaido Curling Tour" starting from 2022-2023 season.

Teruyuki Kaimori, President of Japan Curling Association and Mari Motohashi, General Manager of Loco Solare where Team Fujisawa belongs were at the conference. The tour series consists of 4 events, including the Hokkaido Bank Classic and Advics Cup, long-running annual events along with 2 are new events called Argo Graphics Cup, and Wakkanai Midori Challenge Cup. The dates are:

Hokkaido Bank Curling Classic 2022
(August 4th - 7th, 2022 / 8 teams for men and women) @ Dogin Curling Stadium (Sapporo City, Hokkaido, Japan)

Wakkanai Midori Challenge Cup 2022
(August 18th - 21st 2022 / 8 teams for men and women) @ Midori Sports Park Curling Hall (Wakkanai City, Hokkaido, Japan)

Argo Graphics Cup
(September 1st - 4th, 2022 / 6 teams for women) @ Argo Graphics Kitami Curling Hall (Kitami City, Hokkaido, Japan)

Advics Cup
(September 8th - 11th, 2022 / 10 teams for men and women) @ Advics Kitami Curling Hall

All events are part of the World Curling Federation World Team Rankings, with teams receiving points towards the official world rankings for their results in each of the events. In the past for many years, WCT (World Curling Tour) points were applied to events in curling, yet WCF points are the main ones to be used today. Teams are mandatory to gain these points to play at high-level events, such as the Grand Slam of Curling, where teams qualify based on the world rankings. Therefore, sooner or later, it is assumed that JCA (Japan Curling Association) may consider using this point system to determine the teams for Japan Curling Championship.

We are expecting to see lots of good battles even in the beginning of the season. Unfortunately, due to the restrictions under COVID, it is assumed that the events will be held without spectators at the curling clubs.

"Our hope is to give all curling fans in the world opportunities to watch curling in Hokkaido through CurlingZone," stated Hitoshi Matsudaira, Vice President of JCA.

All 4 events will be operated with live streaming. Having a sponsorship contract with NTT EAST HOKKAIDO (Nippon Telegraph and Telephone East Corporation) is reassuring to support of live streaming operations.

"Our policy is to have a good relationship with local communities and continue to be rooted in the society," said Takashi Abe, General Manager of Hokkaido Business Division.

"The way we see sports and watch games has changed drastically in the last few years because of COVID. We hope the success of the events and are very excited to support the operation of the live streaming by using our technology and tools," Abe added.

The Hokuren Federation of Agricultural Cooperatives, which also became a tour sponsor, has been a partner organization of Curling Hokkaido (HCA) since 2008.

Shozo Watanabe, General Manager of the management division, said, "I hope it will be an opportunity for people all over Japan and overseas to eat Hokkaido's delicious agricultural and livestock products". On top of that, "I believe that healthy and safe food helps enhance the performance of athletes," Watanabe added.

Mari Motohashi, the general manager of Loco Solare, who also works in Public Relations of HCA form this season said, "We are currently discussing the idea of Hokuren MVP Award with delicious agricultural and livestock products from Hokkaido as the prize".

Motohashi thanked both sponsors for believing in the possibility of curling in Hokkaido and supporting the events. "Especially for junior teams, this is a great opportunity where they can play against the top teams in the world," Motohashi said. She emphasized the importance of creating an environment for youth curlers to enhance their performance.

"For example, if a 15-year-old player is aiming for 2030 Sapporo, he/she will experience playing at one of the greatest events in the world like the Olympics at the age of 23," Motohashi said. "Some people say that I am getting ahead of myself, but I truly believe it can never be too early. I want to create a flow that will help the progress for high performance," Motohashi added.

The Hokkaido Curling Tour shows us various aspects, such as high performance, education, top-notch technology, and working with communities. It has great potential and is now born.