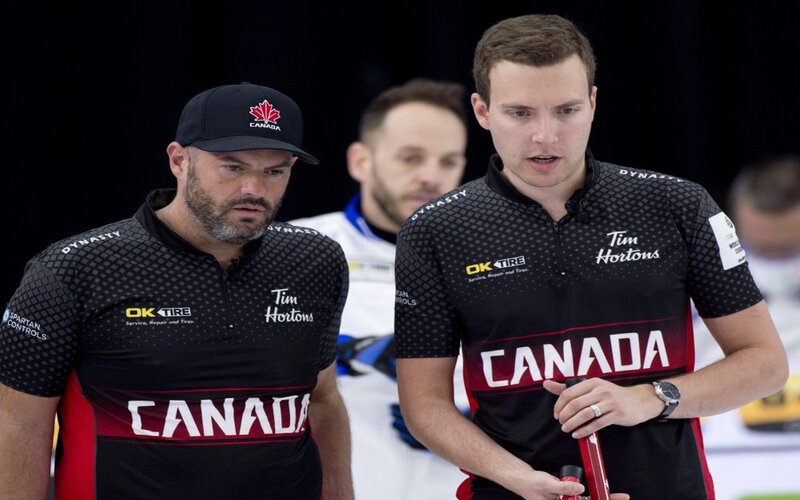 Brendan Bottcher and Darren Moulding (Picture: Curling Canada) have both addressed the surprising departure mid-season departure of Moulding from Team Bottcher.

By: Dylan Chenier

After announcing the departure of long-time third Darren Moulding late Friday night, and the flurry of criticism that followed on Saturday, Brendan Bottcher spoke to the media Sunday to address the matter for the first time publicly.

Bottcher opened the press conference, organized by Curling Canada over Zoom, with a statement in which he outlined the desire to make a change at third, citing team chemistry as the main reason.

"After the Trials, I think every curling team takes some time to look in the mirror and reflect on how best to move forward, both for the third half of the season but also for the future," said Bottcher.

"There's never truly a good time to make changes. As skip, I have a responsibility to my team to ensure the right fit and chemistry and that's my focus moving forward."

"Chemistry's a tough one, it really is. I think anyone that watches sport kinda gets that concept. You join together as a team, you have some success, it feels like you have chemistry. It's not something tangible that you can hold but it feels like you have it. And then one day you wake up and look in the mirror and you just don't have that chemistry anymore... It's hard to put your finger on what it is or how you lost it, it's hard to grasp it back. I think that's really where we landed."

Bottcher says the decision to part ways with Moulding was one the entire team agreed on.

"It was a team decision. Obviously, as leader of the team, I was the one to make the final decision and implement that decision. We just felt like we had lost that chemistry and the fit was no longer there. We felt like for the best for everyone moving forward that now was the best time to make that decision."

While team splits are nothing new in the curling world, it is almost unheard of for the defending Brier champion to part ways with a long-time team member midway through the season. A lot of people, Moulding included, took issue with some of the wording in Team Bottcher's original press release, which stated that Moulding was leaving the team due to "personal reasons."

"It was originally felt that using the phrase 'personal reasons' in our press release gave everyone concerned a good explanation for why we were parting ways," Bottcher said.

"I didn't mean any subtext in that. There was no malice or bad intent. It was simply meant to keep all the doors open for all of us moving forward."

While the Skip seemed to understand that Moulding took issue with the phrasing, he stands by the release, claiming it had been taken out of context.

"We put out a press release which unfortunately I feel like was misinterpreted, not with any bad intent on my side but I feel like that's where we landed."

Given the rather unusual timing involved in the shakeup, Bottcher understands that the rink may face challenges finding a new teammate at this point in the season.

"There's never a good time to replace a player and if you rewind history a bit, Darren joined our team at the same time, because we had a player leave our team five years ago at Christmas. So, unfortunately, this is a situation we've found ourselves in again, I think we're comfortable with our path forward.

"I have nothing here to announce. I'd like to say, the decision we made was not one because we had a player waiting in the wing. So now, we're kind of going through that motion, trying to figure out how we can compete the third half of our season."

Despite the challenges associated with finding a replacement for Moulding, Bottcher says the team is relishing the opportunity to represent Team Canada at the Brier in Lethbridge.

"Ultimately, we have such an amazing opportunity. We get to put the maple leaf on our backs in Lethbridge, in a home province Brier, and that's such an amazing thing to look forward to. I think we all just want to put the work in now, make some of the tough choices, and hopefully, we can come out and have an excellent third half of our season."

Since the team announced Moulding's departure on Friday night, the former third has taken to social media and press interviews to set the record straight. On Twitter, Moulding posted a statement claiming the press release didn't provide an accurate picture of his departure from the team.

"This is a complete bs statement... I'm very disappointed that the team didn't put out an accurate statement on my status. I am not taking time away from the game... I'm ready, willing and able to play,' Moulding posted.

"I do not have 'personal reasons' for leaving. The team decided to cut me, that's fine. Don't misrepresent my status."

While his initial Twitter posts took issue with the nature of the announcement, Moulding opened up further in interviews with the press on Saturday.

In an interview with Post Media's Ted Wyman, Moulding stated that the move resulted from an undisclosed disagreement between him and the skip.

"I called (Bottcher) out on a couple of things and he didn't like it so he cut me."

In an interview with The Canadian Press, Moulding opened up on frustrations he had with Bottcher over the team's business structure.

"If I'm part of the team I want to be an equal share. That means not just monetarily but also in having a say in how we do things and having transparency. So it's definitely a business issue."

When asked specifically about team finances, Bottcher offered just a short reply before indicating that wasn't the point of the press conference.

"Unequivocally, all the members of my team always have, and always will get an equal share of everything. I've tried to have as much transparency as I can.

"I also don't really feel like this press availability is to get into the inner-workings of Team Bottcher, It's really not to get into the minutiae of the conversation we had on Friday."

While Moulding's comments over the last several days indicate a great deal of animosity between the two players, the skip says he understands the emotions his former third is likely experiencing.

"This was tough, this decision, there's never a good time and it's also never going to be easy. I completely empathize with the fact that there's some emotion involved. I'd like to say that was mutual, there's emotion involved for all of us, this was tough."

Unlike other professional sports teams, for curlers, these decisions can feel a lot more personal, due to the size and nature of the teams.

"Something that people don't always understand or always reflect on, unlike other sports teams, we don't have an owner, and we don't have a general manager, and we don't have a back office of media, marketing, legal, communications... Unfortunately, we're four guys that are teammates and try and do all of that other stuff."

Despite the emotions that have been shared over the past few days, Bottcher says he is hopeful that he and Moulding will one day be able to mend fences.

"I'm going to see Darren around, I hope I see him out on the ice here, I really do. I hope that a period of time will pass and we can sit down, and have a coffee or a beer, or even go golfing.

"The four of us, what we accomplished in half a decade, I just have so many good memories there... I hope we can all sit down one day and really remise about all the good moments we had and kind of put aside the tough 48 hours we had here."

However, Bottcher's sites are firmly set on the task at hand, finding a new third, and preparing to defend his title at the 2022 Tim Hortons Brier.

"We're looking forward to the future here, I think there's a positive future for all of us and that's really what I'm trying to focus on."