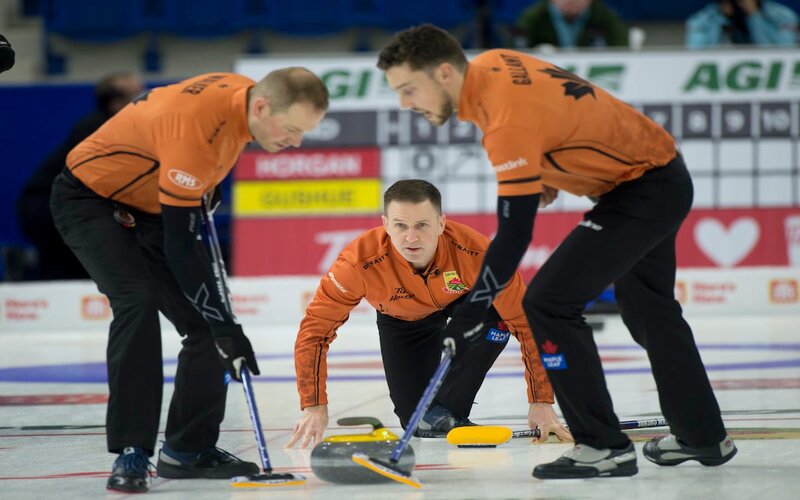 SASKATOON - Brad Gushue (Photo: Curling Canada) has a shot at repeat Olympic Trials glory this week in Saskatoon.

By: Dylan Chenier

Every team competing at this weekend's Tim Hortons Curling Trials has their sights set on one objective, qualifying to represent Canada at the 2022 Winter Olympics in Beijing, China.

While all athletes are united in their quest towards Olympic glory, several teams have already earned a taste of what it means to be an Olympian. These athletes know exactly what it is they are playing for. While some would give anything to return to the sport's grandest stage, others understand just how unlikely that feat would be.

As playoff weekend draws near, former Olympians are finding themselves in familiar territory. These players know exactly what they need to do to win the event and donn the iconic maple leaf. Some players may find themselves fixated on the prospect of making another Olympics, while others are doing whatever they can to avoid thinking about it.

Knowing what it takes to win the trials and actually achieving the feat for a second or third time, are two very different things. Players who have been successful in previous Olympic quests will need to channel their prior knowledge while continuing to play their very best.

Newfoundland's Brad Gushue is one skip who knows exactly what's at stake this week in Saskatoon. Gushue, winner of the 2005 Olympic Trials in Halifax, before skipping his team to Olympic gold at Torino, finds himself in familiar territory as the playoffs loom.

With just one game remaining, all Gushue needs to do is beat Mike McEwen's Manitoba squad, and he's through to Sunday night's final. Essentially, the St. John's-based skip is two wins away from making it to his second Olympic games. Gushue says that the prospect of going to another Olympics has been a driving force throughout the last several years.

"You know what, it's been driving me for a lot longer than just this week. A lot of stuff has happened over the past couple of years and if you're not motivated by the Olympics you probably don't keep doing what we're doing," said Gushue.

"It's been hard as a curler to travel. For us, getting out of Atlantic Canada for the better part of a year was almost impossible and then going through the bubble. We do it cause we love it, we do it cause we want another opportunity [to get] to the Olympics, cause it is an incredible experience, it's a life-changing experience."

While Gushue and third Mark Nichols have already enjoyed the thrill of the Winter Olympics, the skip wants to help his front end earn the experience for the first time.

"The luxury that Mark and I have, it's probably not going to change our lives cause we've been there, but certainly for Brett and Geoff, or any other athlete that has a chance to win this week that hasn't been there, it is a life-changing experience."

Mark Nichols shares in Gushue's hopes of being able to help second Brett Gallant and lead Geoff Walker to experience their first Olympic Games.

"We know what it's all about. We've been there, we've done it and we want to do it again. We'd love nothing more than to be able to help two guys that haven't been there, be able to experience it too."

If Gushue and Nichols were to win the 2021 Trials it would mark an incredible sixteen years between Olympic appearances. Someone with a more recent Olympic experience is Mark Kennedy, second for Brad Jacobs Soo-Sault Marie-based rink. Kennedy is in rare company as he is one of only a few curlers to compete in two Olympic Games. This week in Saskatoon, Kennedy could become the first Canadian to compete in three Olympic games.

In fact, all of Kennedy's teammates have made it to the Olympics, as members of the 2014 gold medal-winning team. For the entire Jacobs foursome, a repeat trip to the Winter Games would be a remarkable accomplishment.

"Listen, these three guys are incredibly talented and it helps that they have the experience of winning this thing before," said Kennedy.

As the playoffs loom, Kennedy says the team is well prepared for what comes next.

"We're going to get to some pretty exciting games here with some pretty high stress and high nerves and it helps that you've done it before, you know what it's going to take.

While Kennedy's eyes are on the prize this week, the 39-year-old offered up an interesting perspective on what a loss would mean for him and the rest of the team.

"Honestly, it's crazy to say, at the end of the day if you don't win it, it's ok. We've been there before, we're not going to be holding the sticks too tight. I've been incredibly fortunate to [go] to two Olympics and if I don't get to go again it's ok."

Kennedy says that a relaxed attitude may actually help the team if they do find themselves in the finals.

"Now [we] can just come out there and have some fun and play [our] best," Kennedy said. "I'm not afraid of losing, and that helps."

While every team in this year's field wants to make it to the Olympics, only a few know what it's like to get there and see their life-long dreams become reality. This Sunday in Saskatoon, some may see lightning strike twice, others will come agonizingly close to experiencing the thrill of the world's biggest sporting event for the second or third time, while some will get their first crack at Olympic triumph.

Canada's 2022 men's and women's Olympic curling teams will be decided Sunday at the SaskTel Centre in Saskatchewan. Whether we will see a squad of brand-new Olympians, or a group of seasoned veterans getting a shot at Olympic immortality, remains to be seen.