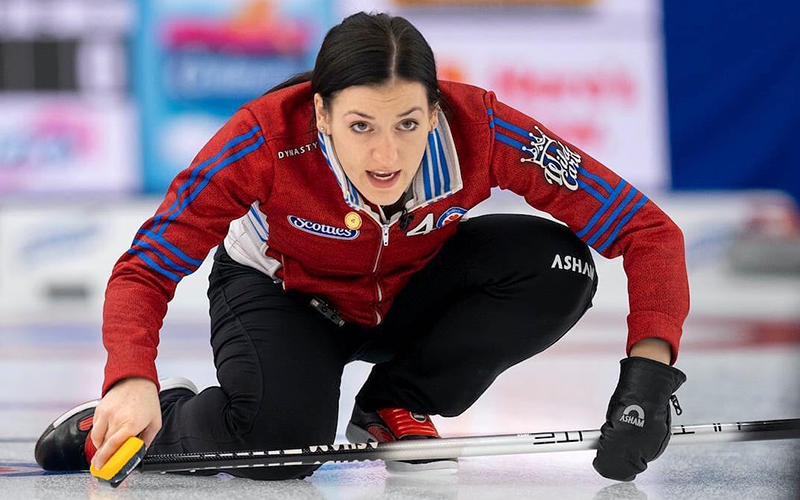 Winnipeg's Beth Peterson and her Assiniboine Memorial team had a very successful tune-up bonspiel for this week's Home Hardware Pre-Trials.

By Resby Coutts, thecurler

They played a CurlManitoba Scotties berth bonspiel – and won it! A successful first step in a quest to return to the national Scotties.

The pressure was on for Peterson, Jenna Loder, Katherine Doerksen, and Melissa Gordon as they weren't sure they were going to be able to compete in the other qualifying events.

Although a small field of only six teams – it was a talent laden, championship group. Kristy McDonald and a complete team of former Manitoba Scotties champions, former World Junior champion Kaitlyn Jones with her new Winnipeg team which includes World Mixed champion Sara Oliver, World Mixed champion Meghan Walter and her young team, former Canadian club champions champ Stacey Fordyce at third for Alyssa Calvert, and Jennifer Clark-Rouire with her years of experience as fifth for Jennifer Jones.

Team Peterson defeated Kristy McDonald in back-to-back games on the bonspiel's final day to win their Scotties berth.

Between games, Peterson said the opportunity to compete in the Scotties' bubble' last February had provided valuable experience and important lessons for the team. She recalled the excitement and the challenge of going to Calgary.

"It was easy to yes to the invitation but it was difficult logistically," she said. "It's too bad we had to play with only three of our team but it was a great experience."

Team Peterson was one of the teams included in the expanded field national Scotties, but they proved they belonged – posting a 5W-3L record in the round-robin and a 2W-2L record in the championship round and an overall 7W-4L record, ranked fifth in the field of 18 at week's end.

"It was mind-boggling to get to go to the national championship. We learned so much playing those teams in that environment," Peterson said. "It was a huge boost, knowing we were going to Nova Scotia (for the Pre-Trials)."

That national experience has already paid dividends for the Peterson team. Playing McDonald in the first game of the berth' spiel Page Playoff round, Team Peterson led 5-2 after four ends, gave up six points over the next five ends and then scored three coming home to tie. They stole a point on the extra end to win.

"We have been working hard at not letting things bother us," Peterson said in explaining the comeback."

"The experience of playing in Calgary definitely helped today in the situation we were in."

From now on, knowing the game is never over for her team based on that single game's experience will also prove to be an important lesson. Later that same day, in the berth final against McDonald, that lesson proved valuable. Trailing 3-2 after giving up a three on the third end, Team Peterson scored a single and stole three to lead 6-3 and gave McDonald few opportunities the rest of the way in an 8-6 win.

Looking ahead to the Liverpool Pre-Trials, Peterson acknowledged it had been challenging to prepare. With the exception of a couple of local bonspiels where they were finalists at the Mother Club Classic and reached the semi-finals of the Atkins Classic, the team has been "working really hard in practice, in the gym, and in learning to curb our emotions."

However, a strong performance in Calgary and that recent pair of important-game wins against a proven Manitoba champion provide the vital experience the team needs to fall back on, and they are confident they can compete in Liverpool.