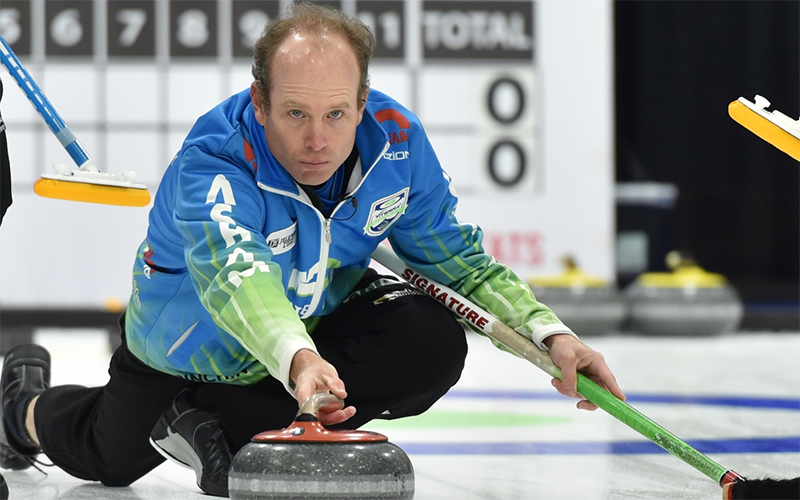 Sean Grassie (photo: Claudette Bockstael, Curling Canada) knows what people think his chances are of winning a chance to compete in the Canadian Curling Trials in Saskatoon.

By Resby Coutts - thecurler

Looking forward recently to the Home Hardware Pre-Trials in Liverpool, Grassie was frank in his self-assessment. "We're ranked 14th out of 14 teams; it's as simple as that," he said.

However, he knows that most people would not have given him, Tyler Drews, Daryl Evans and Rodney Legault much chance of surviving the early pre-Pre-Trials qualifier. It was a fair bet at least one Manitoba team would advance that week in Ottawa but more high profile teams like Jacques Gauthier, a world junior champion, and JT Ryan, a three time Manitoba junior champion, would have been betting favourites.

If anything, Grassie was at a greater disadvantage in that Manitoba-heavy field compared with the Pre-Trials field. After all, those Manitoba teams all know him. In Liverpool, only a few teams will know Grassie – fellow Manitobans Jason Gunnlaugson, Braden Calvert and Pat Simmons' young Manitoba squad of course.

Other than that, 'we don't travel much," Grassie says. "We've played Howard a couple of times in Portage at the Canad Inns Classic so he might remember."

"I was actually surprised to get the invitation (to the Ottawa qualifer)," Grassie says, admitting he hadn't even thought about it being a possibility. "The truth is it went to my junk mail and I actually found it by accident."

For such an early season event, he was very pleased with the way the team played. After losing the first two on last rock they won five in row to earn the second invitation to play in Liverpool.

Grassie's big advantage is that, in Manitoba, he is one of those guys who people don't want to play against in a bonspiel. He wins way more often than he loses and frequently the losers are left wondering exactly why. It starts with a unique delivery and includes the fact that most that haven't played him find that they can't quite mesh Sean's ice calls with their own.

But if they watch carefully, they quickly learn that Grassie's delivery has one key component – consistency: it is the same delivery shot after shot after shot, and it has produced results for years.

His credentials rank him among the elite in Manitoba curling history. He won a Manitoba Junior title in 1999. In the years since he has lost a Manitoba men's final, to Jeff Stoughton when everyone was losing to Stoughton. And he has won three Manitoba Mixed titles, a Canadian Mixed title, and with Alison Nimik in 2008 was part of the first Canadian team to win a medal at the World Mixed Doubles when they captured bronze with a 9W-1L record.

Preparation for Grassie involves playing a lot and this year it included another run at a provincial mixed title in early October. The Grassie team fell short, losing the final, but played well through the event and the skip, who has proudly worn the colours of Winnipeg's Deer Lodge Curling Club for his entire career, is excited about the opportunity to play in Liverpool.

"(Just as in Ottawa) every team's goal is to win a berth and every team feels good about their chances," he says. "It would be the highlight of my curling career if we could qualify to play in the Trials."

One thing is a certainty. If Winnipeg's Grassie foursome does not win a berth in the Saskatoon Trials, you can bet they will have a say in who does!