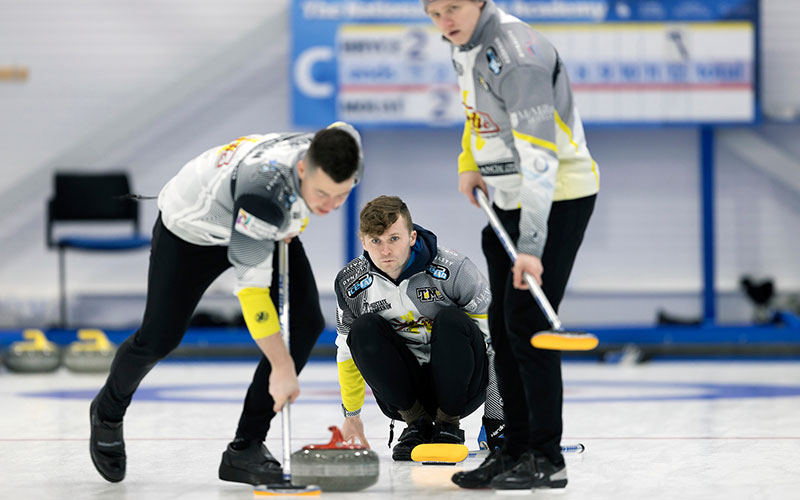 Bruce Mouat (photo: Graeme Hart, PPA) pick up where they left off edging out number one ranked Jacobs team to claim the Stu Sells Oakville Tankard.

It was the fourth event they have played on Canadian ice this calendar year and their fourth appearance in a final. Having enjoyed an extraordinary run in the Calgary bubble at the end of last season, which saw them reach the final of the World Championship, then achieve unprecedented success in winning back-to-back Grand Slam of Curling titles on the following two weekends.

Monday's final in Oakville looked certain to be keenly contested with both the Scottish quartet of Bruce Mouat, Grant Hardie, Bobby Lammie and Hammy McMillan and their opponents, led by former Olympic champion skip Brad Jacobs. Having come unbeaten through the A route of the triple knockout qualifying competition to be the top two seeds in the play-offs at the event.

The match lived up to that billing, with both repeatedly playing to the finest of margins, Mouat stealing at the fourth end to claim a slight advantage 2-1 up at the halfway stage, before Jacobs responded with a two at the fifth, then applied massive pressure at the sixth.

The Scottish skip faced four opposition counting stones when he played his final stone, which Lammie brilliantly swept to produce the takeout that levelled the score.

The Canadians also looked to be in control of the seventh end until Mouat squeezed past a guard with his final delivery to make a double take out which left his stone lying shot. When Jacobs was unable to remove it, the steal pushed the Scots back in front, heading into the final end.


A little late, but here's your 2021 @Stusellsto Oakville Tankard champions, @TeamMouat! Congrats on a great event! #occrocks #curling #summeronice pic.twitter.com/K84zP8nh5o

- Oakville Curling Club (@OakvilleCurling) September 15, 2021



With Canadian commentator Kevin Martin, another former Olympic champion skip, rhapsodising about the standard of play at this early stage in the season, Mouat looked to be in trouble once again at the eighth end. Mouat's take out and roll with his final stone turned the pressure around as his shooter finished as shot stone hidden behind a wall of guards. After opting to go for the win with a take out, rather than drawing to take the match to an extra-end, Jacobs touched a guard to roll out.

"The final was a very tough match which could quite easily have gone either way," Grant Hardie, Mouat's vice-skip, said afterwards.

"Brad Jacobs' team is playing some great curling at the moment, so we had a few nervous moments towards the end, but thankfully a few rubs went our way, and we took advantage of that to close out the game."

It was a return to a happy hunting ground for the Scots since their first-ever overseas event together had seen them claim what was then a shock win four years ago.

"The event here in Oakville was a great one for us," said Hardie.

"The sponsors put on a fantastic event every year, and the ice conditions were brilliant. It drew a great standard of field, so that made it all the more pleasing to be able to get across there and play in the first place."

"The competition went very smoothly for us, and it was great to be able to have such a good performance and be able to come out on top."
In completing a perfect record, they took their run in Canada to 16 successive match wins and 19 in 20 in total since they contested the World Championship final in April, representing an ideal start to a season in which they are targeting the Winter Olympics in Beijing.

"That certainly gives us a lot of confidence heading home, and we're looking forward to a few weeks training before heading to Basel, before we start looking to the next key events for us which will be the two Grand Slams in Canada," said Hardie.

The event also saw compatriots Team Whyte maintain their exceptional record of reaching the play-offs of every tournament they had competed in since moving onto the senior circuit full time two years ago. In contrast, Team Paterson, the only Scottish men other than Team Mouat to have won a Grand Slam, missed out on joining them in the quarter-finals when they were beaten in the C-road final by four-time world champion skip Glenn Howard's rink.