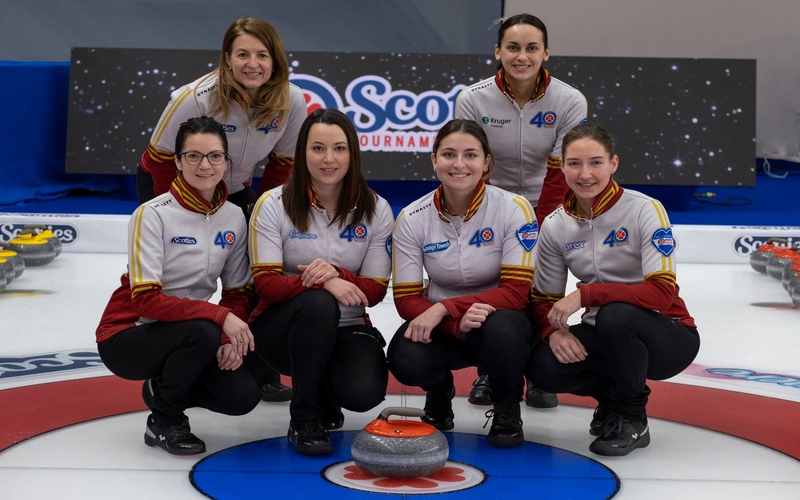 Team Kerri Einarson (Picture: Curling Canada) won the right to represent Canada at this year's LGT World Women's Curling Championship, after winning the 2021 Scotties Tournament of Hearts.

By Dylan Chenier

This week, the world's top female curling rinks become the latest group to head into the Calgary bubble, as they get ready for the 2021 World Women's Curling Championships.?

For Team Canada's Kerri Einarson, the 2021 World Championships are a long time coming. After winning the 2020 Scotties Tournament of Hearts in Moose Jaw, last February, Einarson's rink was set to represent Canada at their first-ever worlds, which were due to take place in Prince George, BC.?

However, the COVID-19 Pandemic had other plans, with most curling events sidelined throughout the 2020 season. Both the men's and women's world championships were eventually scrapped for the year after efforts to re-schedule were unsuccessful.??

Fast forward to this past February, when Team Einarson was able to win their second-consecutive Canadian national title. However, a trip to Worlds was once again uncertain, as event scheduled for Switzerland was put on hold. Team Einarson were once again forced to play the waiting game, while officials sought alternative arrangements.?

Enter Curling Canada, who have pulled off a number of successful events inside their "bubble" at Calgary's Markin MacPhail Centre at Windsport Arena. Given the necessary health and safety protocols during a pandemic, holding events in a safe and secure bubble seems to be the only viable option at the moment,?

Plans were formalized to hold the 2021 Women's World Championship in Calgary, serving as the bubble's final event.?

Over two months later, the team is back in Calgary, and ready for their chance to wear the maple leaf and represent Canada on the world's stage.?

"This is an amazing opportunity for us to represent our country. We didn't get that opportunity last year, so we're definitely going to embrace it," Einarson said.?

While Canadian curling fans are some of the most passionate in the sport, the skip says the team will not allow that to add any unnecessary pressure throughout the week.

"We're going to be off social media! We're just going to focus on ourselves, and Team Einarson, and not putting that pressure on ourselves.

"We're just going to go out there and do what we love, and do our thing."

Team Einarson are no strangers to the Calgary bubble, having competed in four different events throughout the last several months, which means they will be in familiar surroundings when the tournament gets underway on Friday.

"We've been here for a long time, so we've definitely gotten used to it. We're very comfortable with the ice conditions and the facility, and knowing how quiet it is out there," said Einarson.

The team enters this week on a bit of a hot streak, having won last week's Grand Slam of Curling Player's Championship.

"I'm feeling very comfortable. Having won the Player's Championship last week, it definitely gives us momentum going into the World's. We're very excited to start," Einarson said.

"I think we're firing on all cylinders, [so] lots to carry forward," said Third Val Sweeting.

This week in Calgary, Team Einarson will be looking to score Canada its third gold medal in five years at Women's Worlds, after the country found success in 2017 and 2018.

However, a return to the top step of the podium will be no small task for Canada. This week, Team Einarson will have to get by some of the very best in the world, including Sweden's Anna Hasselborg (2018 Olympic Gold Medalist), Scotland's Eve Muirhead (2013 World Champion), and Switzerland's Alina Paetz (reigning World Champion).

Team Canada will begin their tournament Friday afternoon against Sweden.