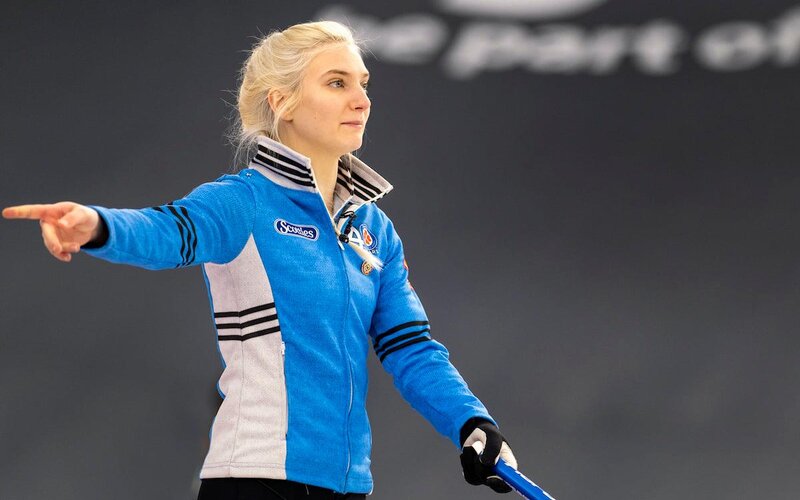 Former Canadian junior curlers, like Laurie St-Georges (Photo: Andrew Klaver / Curling Canada), are holding their own at this year's Scotties.

By: Dylan Chenier

The field at this year's Scotties Tournament of Hearts features many familiar faces, from former national and world champions to past Olympic gold medalists, the women's game is quite strong in this country.

While most of the usual suspects are present this week in Calgary, several young rinks are gaining a significant amount of attention at this year's Tournament of Hearts.

Quebec's Laurie St-Georges is just one of those young skips attracting a number of new fans this week in Calgary.

The rink, known as Team Rock Stars on Twitter, began turning heads this week when they got by Team British Columbia (Brown) 9-5 in Draw #4. Not only was this the first-ever victory at the Scotties for the young team, but it also marked Quebec's first draw win at a Tournament of Hearts since 2018.

Another young team that's received some attention this week is Beth Peterson's rink from Winnipeg, Manitoba, who earned the third Wild Card birth in this year's field.

Team Peterson finished the round-robin with a 5-3 record, earning them a coveted spot in the Championship Round. They were even able to play spoiler in Kerry Galusha's attempt to reach the Championship for the first time, defeating the 14-time Scotties participant 9-8 in the final draw of the round-robin.

While teams like St-Georges and Peterson are some of the brightest young stars in Canadian women's curling, the ability for these rinks to play so strongly in their Scotties debut is a testament to the strength of Curling Canada's development programs.

Both rinks have made appearances playing in Canada's national junior championship, an experience the curlers credit as having helped prepare them for the Scotties.

For Laurie St-Georges, Curling Canada does a good job of trying to replicate the experience of a Scotties or Brier, at the junior level:

"The setup up is the same, and the ice is [almost] the same, so I think it's a good preparation to [play] at the juniors."

For Quebec's Second Emily Riley, the unique fan-less experience at this year's Scotties is a lot like what she's experienced at the junior level:

"I think the fact that there isn't a crowd, and there isn't all the extra stuff that comes with a Scotties? It really feels a lot like when we were in juniors," said Riley.

For Northern Ontario Second Sara Guy, a four-time junior nationals participant, these events prepare teams for both on and off-ice expectations:

"Our first time that we played on TV, we were so shocked and surprised, whereas now you have a little bit of something to go back on," said Guy.

Curling Canada currently hosts several annual events for junior teams, the marque competition being the New Holland Canadian Juniors. The 2021-22 season will see Curling's national governing body add a number of additional events for youth curlers, including a one-time-only U23 invitation event, to help make up for opportunities lost due to the COVID pandemic.