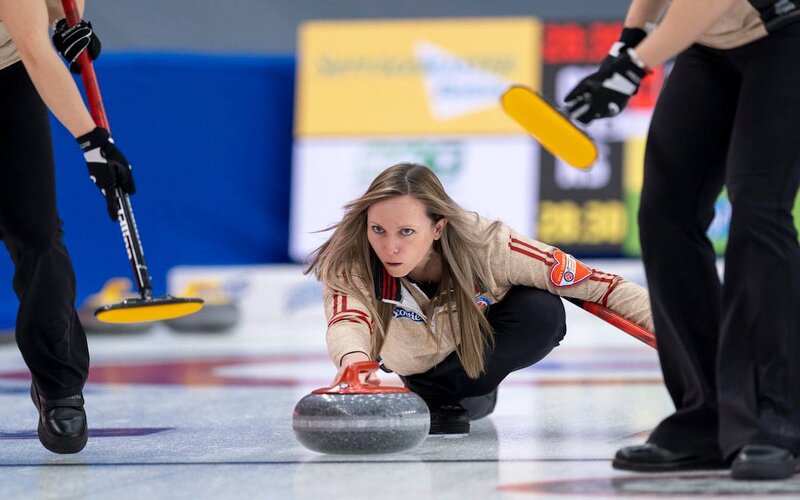 Ontario's Rachel Homan (photo: Andrew Klaver/Curling Canada) is off to a hot start in the Scotties bubble.

By Dylan Chenier

For 18 of the best women's curling rinks in the country, life in the Calgary bubble has become business as usual.

Like so many during the COVID-19 pandemic, curlers competing at this year's Scotties Tournament of Hearts, have had to adapt their strategies in order to comply with health and safety protocols.

Gone are the post-game handshakes, and trips to the Heart Stop Lounge, in their place are Zoom meetings with teammates and members of the media, and a lot of time spent in hotel rooms.

However, while these changes have certainly taken some getting used to, they have not taken away from the task-at-hand: winning a national championship.

"It's definitely different, but when you're on the ice it's still curling," said Team Ontario (Homan) third Emma Miskew, of playing in a fan-less Scotties.

For three-time Scotties champion Rachel Homan, the protocols put in place by event organizers have allowed curlers to feel safe, and focus on their games:

"It's really not that much different from a regular Scotties, [Curling Canada] has done a wonderful job just making us feel safe and planning for everything.

"We can't thank curling Canada and everybody enough for all the hard work that's been done to put this on. We need these games more than ever for Canada and to be able to compete with the Olympics coming up."

Team Manitoba (Jones) third Kaitlyn Lawes echoed Homan's sentiments, regarding the feeling of security in the bubble:

"We feel, right now, that we're very safe," said Lawes. "So far so good, we're [just] so happy that we have the opportunity to play."

With strict health and safety protocols in place, athletes are restricted to their hotels when not on the ice. As a result, some players are missing out on the comradery amongst the curling community, which is often fostered at these events.

"There's so much more to the Scotties besides just curling, there's the fans, the autograph sessions. You meet people, and you reunite with friends," said Saskatchewan skip Sherry Anderson.

"We're not getting any of that. There's a lot of things we're missing out on for sure."
However, for curlers who are making their Scotties debut in the bubble, the impact of the restrictions has been less noticeable.

"It's been interesting to get used to everything. There's been changes coming every day, but ultimately they're just trying to keep us safe," Said Team Northern, Ontario skip Sarah Burns.

"We're here to curl, and that part we're enjoying no matter what happens."

The 2021 Calgary Curling Bubble has been a massive undertaking for Curling Canada. So far, the organization has administered over 200 COVID tests among the 70-plus competitors, with zero positive results.