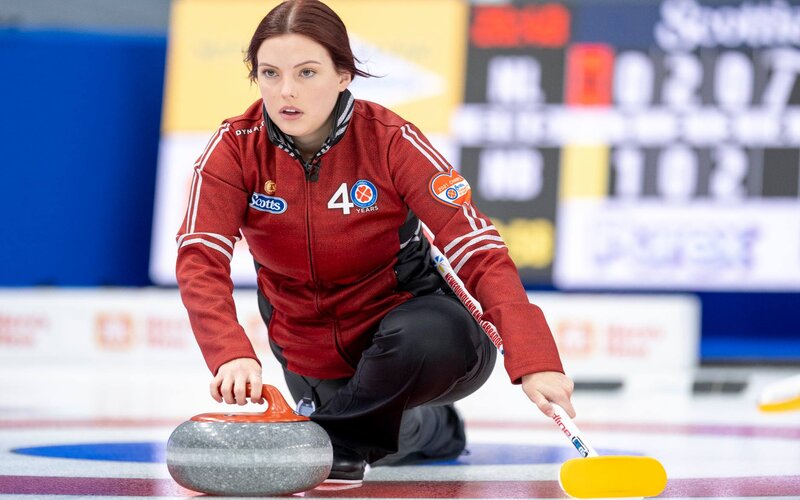 For Canadian female curlers like Sarah Hill (photo: Andrew Klaver / Curling Canada) of St. John's, to compete in a Scotties Tournament of Hearts is often the realization of a lifelong dream.

By: Dylan Chenier

A select group of women are realizing that dream for the very first time this week in Calgary, as the country's top rinks have assembled for the fortieth running of the Scotties. However, as a result of COVID-19, the conditions at this year's national women's championship are anything but normal.

With no fans in the stands, just one of the many health and safety precautions taken by Curling Canada, it's likely to be a rather subdued atmosphere inside the Markin MacPhail Centre, but for most competitors, it's still a significant accomplishment to appear in their first-ever Scotties.

"At the end of the day we're still playing at a national event with all the best women's teams in Canada," said Team Peterson (Wild Card 3) Second Jenna Loder, of the opportunity to compete at the Tournament of Hearts for the first time.

While some of the more experienced curlers may have a hard time adjusting to the unique circumstances at this year's event, the rookies are more likely to be unaffected by these changes.

"The atmosphere does change it a little bit. To be honest, it just felt like another club game out there," Loder said.

For Newfoundland and Labrador's Sarah Hill, skipping at her first Scotties means playing alongside women she's grown-up idolizing.

"Going out at first [was] a little overwhelming, because you have all these big names on the sheet next to you, you grow up watching them, but you never get to play alongside them," said Hill, after her rink defeated Team New Brunswick (Adams) 8-7 in Draw 2.

"Being out [there] on the ice, it's so hard for me to not want to look over and watch all these other games go on."

While curlers like Hill and Loder have only recently graduated from juniors, for some athletes the 2021 Scotties represents the culmination of a career's long journey trying to get to nationals.

For Team Saskatchewan (Anderson) Third Nancy Martin, who has spent many years attempting to represent her province, getting to compete in her first Scotties is a dream come true.

"It was pretty amazing, it felt great. The girls had the shakes a little at the beginning... [but] it was a lot of fun," Martin said following her first game on Saturday morning.

While challenges both on and off the ice, will make this year's nationals a unique event, the Tournament of Hearts is still the place of dreams for Canada's top female curlers.

Despite whatever happens on the ice this week, for the 27 women competing at their first-ever Scotties, the 2021 event will always have a special place in their hearts.