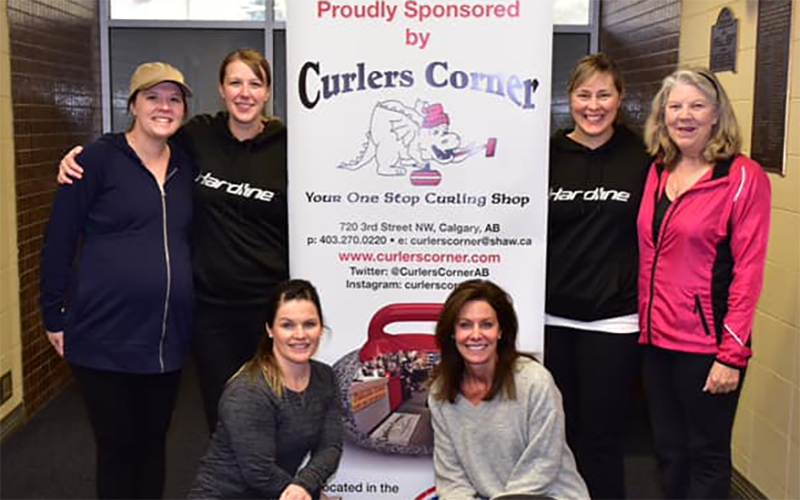 Located inside the Calgary Curling Club, Bernice Merrick's (far right, with Cheryl Bernard and Team Scheidegger at 2019 Autumn Gold) family shop is a local curling institution.

For Bernice, Curlers Corner's development goes back 28 years now, collaboration along with her father and husband. Bernice continues as the proud owner of the business, with niece Glenda and great-niece Ruby on staff.

"We are family-owned and operated business," said Merrick, located at 720 - 3 Street NW in Calgary, inside the curling club.

"We sell so many items related to Curling from Equipment, Gifts, Clothing, Embroidery and Heat press services, shoe repair services and pretty much anything related to curling."

The core suppliers to Curlers Corner include Asham, Olson, Hardline/Icepad, Performance, Balance Plus, Fuzion Sportswear, along with their own, in-house brand.



"This has been a trying year to say the least," continued Merrick.

"We have received fantastic support from our loyal customers, and we only hope that we will be able to see everyone back on the Ice as soon as possible."

Curlers Corner and the Calgary Curling Club can be found at 720 - 3 Street NW in Calgary, Alberta.

"As we are retail, our sales are important to us, and people have been amazing to support us as best they can."

"Due to so many out of work and jobs cut back, we understand it's so difficult for many, so we are so thankful for what they can give to support us."

"Our customers are amazing!!!"

Curlers Corner is the Autumn Gold Classic title sponsor, a major stop on the women's tour each season, along with their support of the Curlers Corner Junior Classic, held every September. Along with these high profile placements, Bernice continues to support many clubs and leagues endeavours.

"It is so important to Curlers Corner to give back to those who have given us to much," added Merrick.

"We appreciate what the curling community has given us and we will always continue to give back when we can."

Curlers Corner is another gathering place for the sport, great supporters of the sport, though as a small business, these times are especially difficult.

"We ask everyone to support their local Pro Shops as they need this business to help get through the next while."

"We just that we wish everyone to stay safe and remain healthy, and know if they need us when the clubs open back up that we will be here."


Just in... pic.twitter.com/Tj8JDSbJ2H

- Curlers Corner (@CurlersCornerAB) November 27, 2020