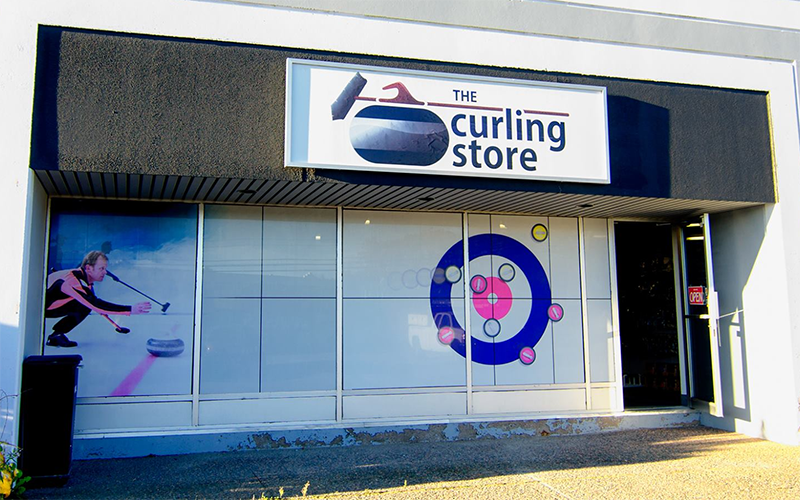 When Nova Scotia's Scott Bowers and partner Michelle bought The Curling Store business from her parents, they gained a new appreciation for the sport.

Located at 80 Raddall Ave in Dartmouth, The Curling Store evolved out of the back of a used CD store owned by Brian and Joanna Rippin, eventually changing hands and growing into the current location.

"My favourite thing about curling is the camaraderie that exists within the sport," Bowers would write.

"Many of our local customers we know by name and spend a good portion of our day not only selling curling products, but by being the bartenders of the sport in our area."

The curling community has long been a tight group, and The Curling Store gives players of the game a place to connect and talk a little curling when picking up their new gear for the season.

"We get into some long conversations amongst ourselves and with customers."

One area that Bowers has stepped up the game is the many videos of product reviews on their Youtube channel and several helpful tips on keeping your equipment at peak performance for longer.

Related:
About The Curling Store:


"Many folks look to us for product expertise, and we do our best to provide that level of service. I have fallen in love with the sport, and I can talk about curling all day long. Curlers are some of the nicest people I have ever met."

The story all began during the 2003 Brier in Halifax, where the Rippin's offered up space to good friend Doug Flowers, former President of Goldline Curling.

"At the time, Brian was amazed at how many people attended the event and was impressed with the 4-5 cash registers Goldline was running," continued Bowers.

The Rippin's were the owner of a used CD store and had some available space in the back of the store, so used that space to sell some curling gear, and with that, The Curling Store came alive.

Michelle, with son Jack at the 2014 Worlds in Saint John:


"My wife and I bought the business from her parents in 2010 and have moved to a larger location in a business park," added Bowers.

"We usually run three employees, including myself, but we are only running two due to reduced revenue."

The Curling Store is dedicated to the sport, selling Goldline, BalancePlus, Hardline, Asham, Tournament/Performance, Sure Shot and Rockwatcher.

"We're only curling as we want the curlers to feel like this is their store."

Before taking over the business in 2010, Scott was not a curler but had watched and attended many curling events as a fan.

He was working as a manager for the 'Big Banks' and wasn't loving the work. With his business degree, him and Michelle were approached by her parents on whether they were interested in taking over the store.

"I am a big sports fan, so I decided I would be interested and started my curling career."

The Curling Store Cashspiel at the Lakeshore Curling Club, a regional Tour event in Nova Scotia is the high profile sponsorship effort for Bowers. While this stands out to most, his support for in-ice advertising in clubs and streaming coverage of events as the best option for promotion.
We have donated funds and prizes to NS Curling and have been a regular advertiser in Live Streamed events in Nova Scotia.

"We avoid sponsoring curling teams as there are too many, and we prefer to advertise in events where more people are impacted by the promotion," said Bowers.

"Most of our customers are recreational curlers, so we want our advertising dollars to be directed to that area primarily."

"I like in-ice advertising and live-streaming the best and think it offers the best bang for your buck. I don't tend to look at wall signs myself, but I always know when I am playing on a Curling Store sheet of ice."

For Bowers, the situation in Atlantic Canada has been difficult, though he worries more about his counterparts in regions where COVID-19 has been tough on the community.

"Many counterparts across the country are in much worse shape; are likely relying on borrowed money to keep their business going."

"I'm worried about the greater impact on curling suppliers. There are not many of them, and I suspect they are sitting on a lot of inventory and are having a struggle paying their bills."

"The curlers have always supported us and we know they will be back once we're able to re-open the sport. We just ask that the curlers come back to playing the sport that we all love."

The Curling Store has flexible instore/curbside pickup, will take telephone orders, and offers flat rate shipping throughout Canada and USA.

"If we follow local health authority guidelines, hopefully we can be back on the ice by the new year. If clubs start taking out the ice and we lose January, February and March in addition to December, we will have problems."