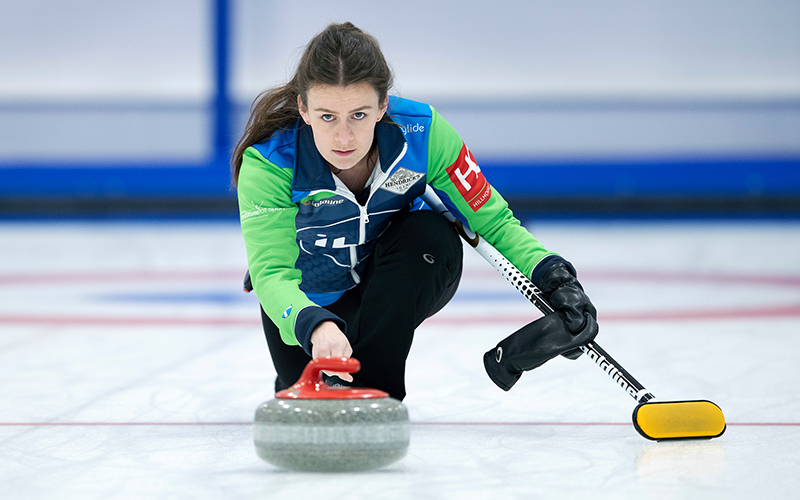 Gina Aitken (photo: Perthshire Picture Agency - Graeme Hart) among British Curling's Olympic programme athletes competing in mixed doubles for the first time this season staged at the National Curling Academy in Stirling.

Following on from last month's successful trial at the November Classic matches in the British Curling NCA Mixed Doubles December Tankard competition (Mon Dec 14 to Wed Dec 16), will again be live-streamed throughout the week.

Bringing a difficult 2020 to a challenging finale, the mixed doubles competition will be run in conjunction with the December Superspiel (Thurs Dec 17 to Sun Dec 20) which will be the third in a series of men's and women's competitions staged among the leading domestic players under Covid 19 protocols, designed to minimise risk to players and administrators. There will, however, be an added twist to add to the mix at the Superspiel, with the men's teams playing against the women's teams in the round-robin stages.

After taking on added responsibilities this season, as skip of a newly formed women's team that has made a promising start together, five-time Scottish mixed doubles champion Gina Aitken is looking forward to a doubly challenging week.

Along with Rebecca Morrison, Mili Smith and Sophie Sinclair she will be playing against the men's teams in formal competition for the first time, while she also noted that the elevation of mixed doubles to Olympic status has transformed the discipline.

"Since 2012 when Bruce (Mouat) and I started playing mixed doubles, it's a totally new game, in terms of rules and standard of play," she said.

"The game now is not the same; there's a lot more nuanced variety in the strategy and shots. Especially in the early mixed doubles days, every end was a ton of draws towards the four foot, and that definitely helped develop my skills in the team discipline too."

After a period of fully specialising in mixed doubles, Aitken has demonstrated those benefits as she has returned to the women's game with that new line-up which won the September Shoot Out, their first tournament together, then finished runners-up to Scotland's top-ranked women's team, skipped by Eve Muirhead, in the November Classic.

"I've only been away from the women's game for a couple of years, and I'm incredibly grateful to have a brilliant team who have supported me making the transition. We work so brilliantly together, and I can't wait to see what we can achieve next," she said.

Aitken won four of those Scottish titles with three-time Scottish men's champion skip Bruce Mouat, but that pairing was broken up when she had that spell concentrating on mixed doubles and she has Ross Paterson as her new partner for next week's event.

Mouat consequently formed another winning combination which got the better of Aitken and Scott Andrews in last season's Scottish Championship final and new partner Jen Dodds is looking forward to building on that success.

"I'm looking forward to playing with Bruce again," she said.

"We have been playing against the other mixed double teams on a Friday so it will be exciting playing them in a competition format again. Mixed doubles is such a quick and exciting format so it will be a good test of our fitness.

"As we won't have many if any, international mixed doubles events in the pipeline, this is an important competition. For whatever team goes to the Worlds, this competition is great preparation, as we have a lot of high-quality pairings playing which can compete at a world level. During the event, we can take what we have been learning and working on in training into a competitive environment and see what the outcomes are."

In echoing the views of both his Scottish championship-winning partners on the way mixed doubles has changed, Mouat is meanwhile relishing the extra dynamics that are being generated as the leading Scottish men and women play with and against one another.

"Mixed doubles has certainly progressed since Gina and I first won it," he observed.

"We saw a lot of the typically more established curling nations start to take it seriously and perform well, with a lot more tactics coming into play and even some of the rules have changed, so it's been quite a significant evolution of the game I suppose, and it's definitely become more professional, with more of the bigger names starting to take it up. Anna Hasselborg and Oskar Eriksson won the Worlds, and they are two of the best-known players in the women's and men's games as well, so you can see it's definitely professionalised."

He consequently knew it would be more challenging than ever before when he returned to the format earlier this year but was delighted with the way he and Dodds managed to adjust.

"It was a great feeling to win the Scottish last year and a bit of a surprise because neither of us was necessarily focusing 100 per cent on it when we had the men's and women's World Championships to prepare for after winning our Scottish titles two weeks before that," Mouat pointed out.

"But then, when the mixed doubles came about, we were obviously wanting to play our best when it comes to a Scottish Championship and it was just great to see the effort we put into that weekend pay off for us."

He reckons they have benefited hugely from the additional time spent working together this season, with the British Curling programme now devoting Friday training sessions to mixed doubles.

"The mixed doubles we've been playing this year has definitely helped us establish what we're doing as a team," said Mouat.

"We understand the game a bit better in terms of how we want to play it, rather than being a new team looking back to how I used to play it. Jen has taken to the game really well and is a major help to me when I come to play my shots. So, it's a great dynamic that we have, and I'm looking forward to playing with her next week."

He is also savouring the prospect of immediately turning against her once the mixed doubles are concluded, adding that: "It's going to be quite an exciting week, playing mixed doubles first, then going on to the open event. It should be quite a long week for both of us, so I'm looking forward to seeing how we get on. Our first game is against Team Muirhead, so after playing with Jen all the way up to Wednesday, on Thursday morning we play against each other, so that could be quite a fun game for both of us to play."

It will be similar for Eve Muirhead and Bobby Lammie, her mixed doubles partner who plays second in Mouat's men's team.

"It will be good to have a longer duration competition with a bit of a mix up as well. Kicking off with mixed doubles it'll be great to get some more game time with Bobby," said Muirhead.

"Right now, we play together every Friday, but if we can add in a bit of competition that always helps. Last year we had a competition in Aberdeen, then the Scottish Championships and each time we played in these events we became a little bit stronger, so it's really important to get that. Then we move onto the team event and depending on how you get on it could be a very tough week with a lot of games."

She sees that as an opportunity to hone the competitive edge at a critical stage in the season, immediately ahead of a rare chance to make the most of the festive season.

"That will be very difficult with us being matched up against the men as well. We all know that men have a little bit more power than the girls, so these games are always tough, but we'll give it our best shot," she said.

"It's really important that we get this game time, especially when we are looking for selection for this season's World Championships so we have to prove that we are game ready. As we all know these months are creeping in and before we know it, it will be time for the Worlds, and if all goes to plan there for Team Scotland then there will be a spot at the Olympics for Team Great Britain, and we'll all want to fight for that.

"So, I think it's important that we have this competition and I also think it's important that we have the break for Christmas, which is great. We have two weeks off which I don't think I've ever had over Christmas and New Year since I've been in the programme. That's going to be a really important time to re-charge and set some new goals for myself moving into 2021.

"It's going to be a big year in a lot of respects, so we're looking forward to it. It's going to be hard, but as a team we love a challenge and that's exactly what's going to happen next week."

Regular updates on the event's broadcast schedule will be available from British Curling's Facebook and Twitter channels and to watch live-streamed games from the event throughout the week please visit: www.youtube.com/c/britishcurling.


A big thank you to @VickyWright14 juggling her curling commitments with her work on the frontline with her colleagues @NHSForthValley #curling https://t.co/7wKnTuxOTp

— British Curling (@BritishCurling) December 14, 2020