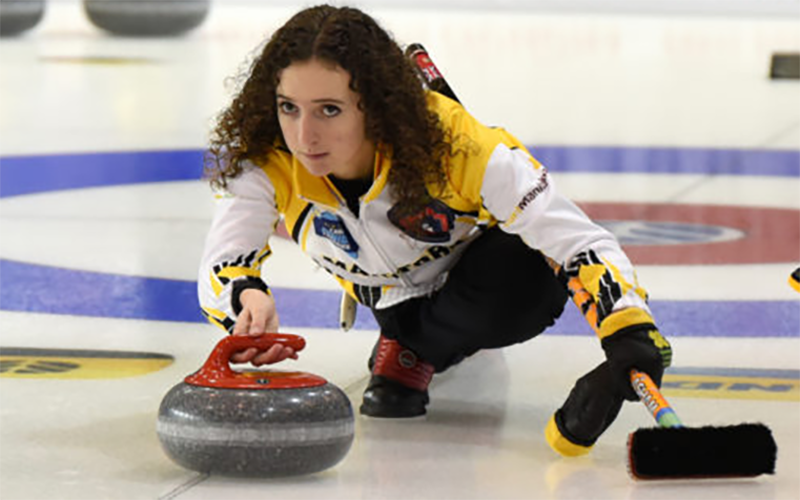 World Junior Champions Mackenzie Zacharias of Altona (Photo: Curling Canada/Melanie Johnson) won 6-3 over Darcy Robertson's Winnipeg foursome on Sunday.

Played at the Assiniboine Memorial Curling Club in Winnipeg, the Atkins Curling Classic had a ten team men's event along with the seven team women's event.

Zacharias, winners of the 2020 World Junior Championships in Krasnayorsk, Russia in February, consist of Karlee Burgess at third, Emily Zacharias at second and Lauren Lenentine at lead.

Related:
> It's All in the Family for Manitoba's Zacharias Clan

The first end didn't open so well for Zacharias, after a blank attempt sailed wide for a steal. Robertson had used a lone corner guard, to partially hide her last shot, and setting up the score.



In the second end, Zacharias better used the corner guards, hitting to count shot stone and two more under cover for the 3-1 lead.

After trading singles in the third and fourth end, Zacharias stole the fifth and sixth ends to en-route to the win.

Zacharias has been battle-tested on the Tour, posting a 48-14 record last season between events and junior playdowns. Zacharias reached the semifinals at the Manitoba Curling Tour Classic, the C-Qualifiers at the Canad Inns Women's Classic in Portage, going on to make the final in Morris last November at the DEKALB Superspiel.

Zacharias won 9-2 over Beth Peterson (Winnipeg) in the seminfinals, while Robertson advanced with a 5-3 win over Abby Ackland (Winnipeg).

Zacharias qualified through the B-event qualifier on Saturday, winning 5-0 over Kristy Watling to advance to the playoff round, while Robertson won an A-event qualifier over Ackland, 5-2.

With the win, Zacharias earns a berth in the Manitoba Scotties, schedule for January 2021.