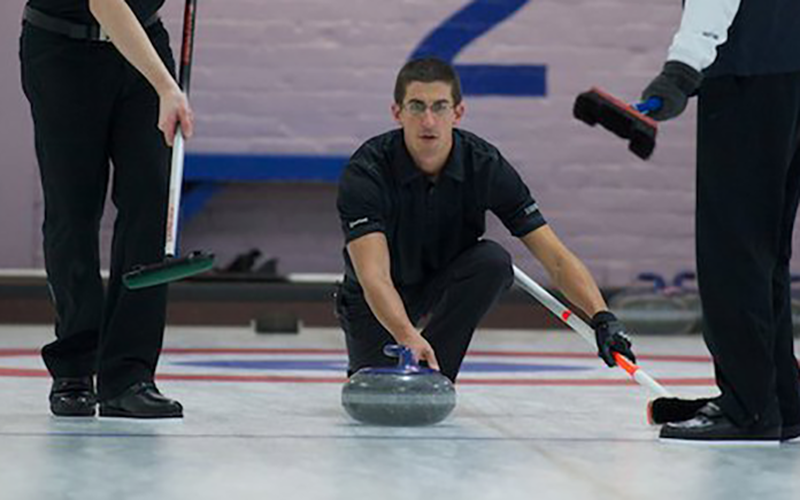 2019 Canadian Club champions skipped by Paul Moffatt (photo by Anil Mungal, on-file) won 6-5 over Glenn Howard to win KW Fall Classic on the weekend.

Played at the KW Granite Club in Kitchener-Waterloo, Ontario, host of elite curling for four of the last five weekends, saw Moffat along with third Ben Shane, second John Gabel and lead Kyle Forster, capture the KW Fall Classic title.

Moffatt forced Howard to a single in the first end, leaving the hit against two to score. Moffatt took the lead in the second end, drawing for two, then held Howard to another single point in the third end.

Moffatt again drew for two in the fourth end to lead 4-2, then stole a single in the fifth end when Howard was heavy through a tight port, sliding past the backing.



For Moffatt and his team, the 2019 Canadian Club Curling Champions, the position of holding the lead like that over Howard in the Championship game might seem a little surprising, though Moffatt's path in curling diverged following the 2006 Olympic Trials.

Throwing lead stones for the John Morris team based out of Calgary, with Kevin Koe at third, and Marc Kennedy at second, Moffatt helped claim the 2004 Grand Slam of Curling Players' Championship, as well as finishing third at the 2006 Olympic Trials.

A decision between continuing curling at the highest level conflicted with a potential teaching career, and Moffatt chose to focus on a balanced approach.

Related:
> Moffatt Gets Another Chance With Club Run

Howard stormed back in the sixth end, finding two with a big weight double, then added a single point steal in the seventh end when Moffatt draw against three counters in the four-foot.

Moffatt held the hammer coming home, drawing into the four-foot with his last stone for the 6-5 win.

Moffatt defeated Owen Purdy of Kingston 9-6 in the semifinals, while Howard knocked off Brandon Tippin (Brantford) 6-4.

Both Howard and Moffatt finished the round-robin at 3-1, with Moffatt winning 7-2 in the opener over John Willsey (Collingwood). Moffatt won 6-5 against Sam Steep (Seaforth) and 6-2 against Brandon Tippin to clinch a playoff berth. Moffat lost their final round-robin game 5-4 to Josepth Smith (Brockville).

Howard knocked off Smith 11-0 in the opening draw, then won 6-3 over Sam Mooibroek of Cambridge. Howard fell 6-5 to Purdy, but won their last round-robin game 6-3 over Charlie Richard (Woodstock) to reach the playoffs.