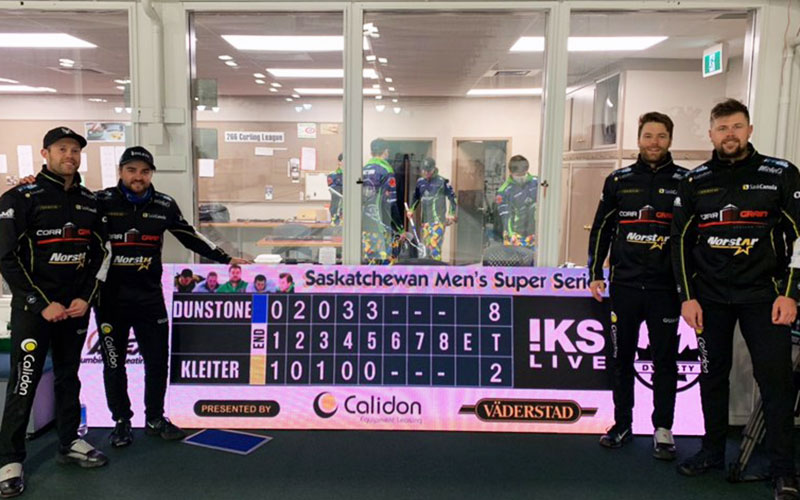 Taking the route of maximum coverage, Matt Dunstone won two on Sunday, including an 8-2 win over Rylan Kleiter in the Vaderstad Saskatchewan Super Series Final.

"Just so happy to be out competing again," said Dunstone following the win.

Dunstone with Braeden Moskowy at third, Kirk Muyres at second and Dustin Kidby at lead broke open the game in the fourth end, scoring three, then got three more in the fifth end for the early concession.

"We were definitely motivated in that final to take care of business based on what happened earlier in the weekend."


🏆 Winner winner! First event of the season and man did it feel good to be back out there competing again!! #SaskSuperSeries #CalidonLeasing #Vaderstad pic.twitter.com/UEBwjbMusZ

- Team Dunstone (@TeamMDunstone) October 18, 2020


The Vaderstad Saskatchewan Super Series was a concept brought together to give them some competitive games as all province work through COVID-19 restrictions. The team worked with several of their own sponsors to bring on a professional crew, IKS Live, to produce and stream the event through CurlingZone.

Highlights: Final - Dunstone vs. Kleiter


For Kleiter, they advanced to the final going 3-1 in the round-robin to finish first overall, including a 7-3 win over Dunstone on Friday evening.

"They definitely made a statement to the rest of the Saskatchewan men's scene," continued Dunstone.

"No secret to anybody now that they're the real deal. A team that not only Saskatchewan should get familiar with, but the rest of the curling world."

Dunstone, also 3-1 entering the playoffs, won 7-3 over Shaun Meachem in the semifinal. Meachem of Saskatoon, was joined by Brady Scharback at third, Brayden Stewart and Jared Latos on the front-end win 2-2 in the qualifying round.

"Huge opportunity in the third end and a shot we knew we had to make to push us forward in the playoffs today," Dunstone talking about the third end against Meachem where the skipper makes two amazing shots that lead to a score of four.

"We had complete confidence in the ice and the rocks. Lucky enough to play on such great ice at the Highland."

Highlights: Semifinal - Dunstone vs. Meachem


"Couldn't be happier with how everything ran," added Dunstone.

"Huge shoutout to the highland curling club and their safety protocols for how successful this event went."

"Total credit to them."

Related:
> CTV Regina: Team Dunstone back on the ice ahead of Sask. Mens' Super Series