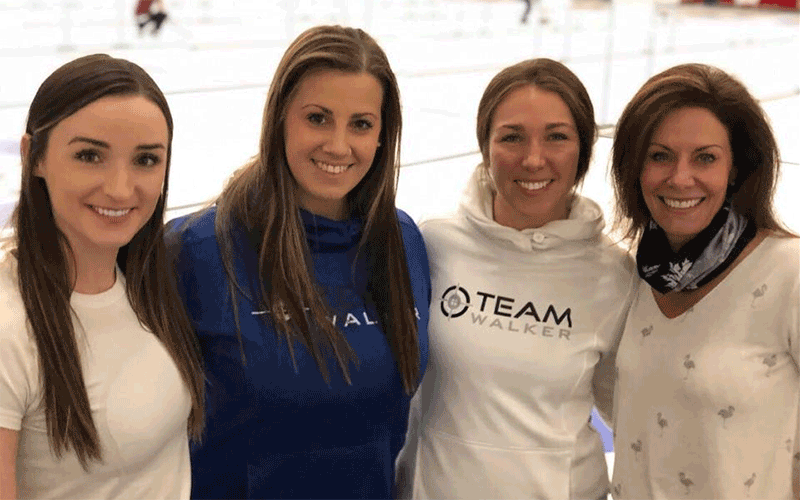 Edmonton-based Laura Walker faces off against Calgary's Jeremy Harty in an exhibition game Sunday at 11 am Mountain Time / 1 pm Eastern Time set to give both teams a chance to get onto the ice. Fans can find a stream of the game on the Team Walker Facebook page.

As COVID-19 has interrupted the competitive plans for a number of teams, we see creative ways for these teams to get back on the ice and get some games under their belt.

For Team Walker, the season was already expected to start a little differently, as skip Laura Walker and her husband Geoff recently welcomed Liam to their family.




We're excited to share that Baby Walker has arrived!!

Laura & Geoff welcomed a beautiful boy, Liam David Walker, to the world yesterday, and we are so happy to know everyone is doing well.

Congrats skipper, Geoff, and Penny! We can't wait to meet the new teammate pic.twitter.com/jfGjdwIzbU


- Team Walker (@TeamLWalker) September 22, 2020



Enter Cheryl Bernard.

Since retiring from the competitive game on a full-time basis, Bernard has found herself as a fill-in with several teams over the last few seasons, including Casey Scheidegger's Lethbridge-based foursome last season.

"Having Cheryl apart of our team this season is a huge asset," third Kate Cameron said ahead of today's game, being played at the Calgary Curling Club.

"We began planning with her back in March and feel we can utilize all her knowledge and experience.

"She's a fantastic shooter and just an overall great person.

It was a strong first season for Team Walker, with Taylor McDonald at second and Nadine Scotland at lead, winning the Alberta Scotties and qualifying for the national championship in Moose Jaw last February.

Walker posted a 51-24 record on the season and will open the season ranked #19 on the World Curling Federation World Team Rankings once points accumulation resumes again. Winners of the two events on Tour, taking down the DEKALB Superspiel last November after winning the early season Mother Club Fall Classic, both in Manitoba.

The team won their berth into the Alberta Provincials winning a qualifier in December, then went undefeated in the Alberta Scotties to win the title and advance to the Nationals.

"After finishing a strong first season together, we were bummed about the thought of putting the upcoming season on hold," continued Cameron.

"When COVID [shutdowns] first occurred, we originally welcomed the much-needed rest thinking this wouldn't last long, however not long after we started to feel anxious after talk of events potentially cancelling."

Related:
> 2 Girls and a Game: Getting to Know Kate Cameron


"Once a good chunk of events officially cancelled we decided to pause planning our season. We continued to focus on keeping physically fit and taking some time to rest and recover from the last busy season."

With many early-season competitions being cancelled or delayed, it's been a challenge for teams to find games and get back on the ice. Adding to the challenge is that the team is spread out, making it a little more challenging to get together to practice or play. Cameron is the import player for Team Walker, living in Manitoba.

"A few weeks ago we finally got word that we could compete within Alberta and that I could attend to compete with the girls in Alberta."



"We want to make the most of the season present to us, taking all health precautions to keep healthy during these unprecedented times."

"We plan on training as much as we can to stay sharp and ready should a more definite season be presented to us in the new year."