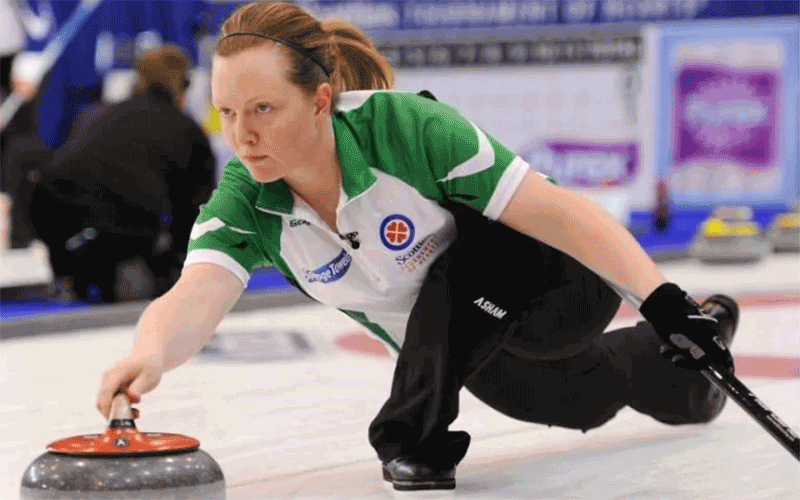 Ashley Howard (photo by Kaytlyn Barber) has been both in the middle of organizing as Curlsask Executive Director but also itching to get back on the ice.

As the curling season takes shape, it's the smaller regional tour events that have been able still to create a semblance of normalcy for the curlers.

"I've just packed my curling bag, ready to go," said Howard as she was preparing to head to the Sutherland Curling Club in, Saskatoon where the Saskatchewan Women's Curling Tour will host their opening event of the season.

"It's the best feeling. The doorbell rang and our jackets are in from Runback, and it's the start of the season."

Howard will open play against 2011 Canadian Scotties champion Amber Holland of Regina today at 3 pm Saskatchewan time.

"Just as my experience as a curler, I circle the Autumn Gold, bigger events, or a slam, and think those are extra special in any given year and maybe not take a local event as seriously."

"This whole season has changed my perspective on just meaningful competition at home."

The 2016 Saskatchewan Scotties champion returns to the ice this season with the same lineup as last year with Kourtney Fesser at third, Krista Fesser at second and Kaylin Skinner throwing lead.

"It's just been a totally different mindset. We just have to be thankful for each rock that we get this year."

Related: Splitting The House: Ashley Howard


"I actually thought we wouldn't be competing until later in the fall so to be on the ice early, even in a test event feels great," said Holland.

"I am most looking forward to feeling out the new squad on the ice in game situations."

Holland is reuniting with Kim Schneider this season, previously teaming up as part of Team Canada that went on to win silver at the 2011 World Championships in Denmark.

"I am also looking forward to having Kim Schneider standing back beside me in the house as I am sure it will feel like coming back 'home'."

Holland and Schneider will be joined by Karlee Korchinski and Debbie Lozinski on the front end as the new lineup looks to find some chemistry early in the season.

Sherry Anderson's Saskatoon-based rink will be taking to the ice without her, as she recovers from a late-season golf injury. Third Nancy Martin steps into the skip role, with Kara Thevenot coming in at third joining the existing front end of Chaelynn Kitz and Breanne Knap.

"We are excited to get the season started," an excited Martin said ahead of their first game Friday afternoon against Regina's Hanna Anderson.

"It's been a very long offseason; tons of time to think about how much we love this sport."

"We have missed our teammates, competitive atmosphere and social interaction, especially during these last few months."

Knapp is new to the team for this season, joining at lead following the departure of Meaghan Frerichs. The current team has reached the provincial Viterra Scotties final the last two seasons after Anderson won in 2018 with the Fessor sisters and Korchinski.

"We are excited to get back to even a small piece of normal."

Anderson is expected only to miss the first event of the season.

Howard joined Curlsask in 2016 as Executive Director and has led the organization now more focused on the needs of the curlers themselves.

Work done to support the regional tours in Saskatchewan has bolstered interest coming into this season as adding provincials berths to the Tour events has created more participation in these events.

Even amidst the pandemic, we've seen the women's tour expand as demand to play continues to be strong.

"As a curler, I'm so excited to get back out and play," added Howard.

"There's been a lot of work going into getting our clubs open and giving guidelines to keep people safe during gameplay was really the first ticket."

"Then it was about supporting our clubs, and we're continuing to do that as we go forward. There's nowhere to throw a competitive rock if we don't get our clubs open and support them well, so we started there, but now our attention is starting to focus on in on competitive type play."

As business and facilities begin to open more in Saskatchewan and more is known about COVID-19, we see things open up more, but with a focus on player safety.

"We're working with draws, modifying them into small pools to make sure that if something goes wrong, we have a very small number of people that are exposed and respecting our public gathering limits and public health orders as well."

While it's good to have a strong plan, we're certainly seeing the challenges around trying to get events off the ground as the rules and guidelines evolve over time.

"As I've learned, things can change on a dime. Regulations can change and we're forced to react in the last minute and make decisions in the interest of safety as opposed to the best draw or what makes sense [for] curling."

Martin herself has been involved with the SWCT, helping to guide the process behind organizing events and finding clubs interested in hosting events.

"I've worked with a couple of committees for both mixed doubles and women's," said Martin. "There is a lot of extra work this year with so many things to consider."

"This moment feels like it's all worth it!"

"Thank you to Curlsask and the SWCT for doing what they needed to do behind the scenes so we can play," an appreciative Holland added.

But now it's time for the games to begin, with fourteen teams participating in two pools of seven, giving each team four games. The format is limited to the round-robin portion only, with the final draw taking place Sunday at 3 pm.

"It's been interesting, and I just can't wait to get out and throw that first one," Howard said.

"Hopefully it's not against 5 or 6; you never know in these first few games in the season. Just thankful we get to play this year."

Games begin at 1pm Saskatchewan time / 3 pm Eastern time with scores and results found at www.curlingzone.com.