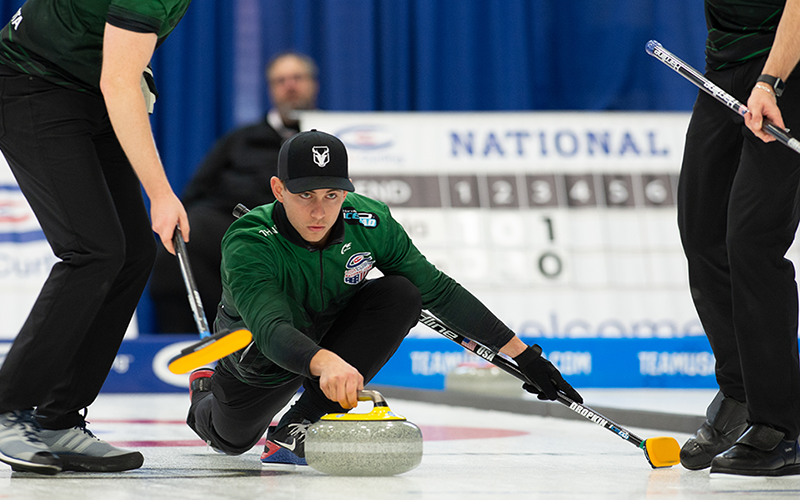 Korey Dropkin (photo by Anil Mungal) joins 13 men's teams and 6 women's teams as the Goldline US Open Contender goes this weekend in Blaine, with games streamed all weekend.

"We're looking forward to being back on the ice," said Korey Dropkin, skip of the team coined as Young Bucks, a term that took life last season as they rose to 14th ranked on the World Curling Federation World Team Rankings.

"We'll be in masks and one sweeper on the rock. And honestly, just looking forward to being back in competition."

Dropkin, joined by Olympic Gold medalist fifth Joe Polo at third, bringing experience to the squad last season, with Mark Fenner, Thomas Howell and Alex Fenson rounding out the lineup.



"Last year certainly did seem like a breakout year for us", Dropkin continued.

"The year before we were getting back into it with the young guys and although we were doing well, we were still improving, were still seeing a lot of things coming together, we weren't able to secure a final."

Dropkin reached the final in four tour events,phenomenalr Club Classic in Winnipeg, the Let's Cure Lupus St. Paul Cash, the Huron ReproGraphics Oil Heritage Classic in Sarnia, Ontario and the Curl Mesabi Classic in Eveleth, Minnesota.

Add it to a semifinals loss in the Tier 2 Grand Slam, a qualifying event into the big show, it was certainly a year of tough lessons for the team in big games.

"Really to start off last year and go to that Tier 2 [Grand Slam], even in the middle, we struggled for a few games, but we just sort of kept our head high and fought through", Dropkin though back to the up and down week where they snuck into the playoffs with a 2-2 record.

"Winning that Tier 2 kinda just got the monkey off our back. It just felt wonderful. Just knowing how hard my guys are working, they really deserved it."

"It was a really good time to break out. And getting that Tier 1 Slam, the Canadian Open was just really great experience to be able to play."

For Dropkin, the goal of being the best in the world goes through the Grand Slams and playing against the best teams in the world.

"With all those top teams, in front of fans, and the big audience and playing on the phenominal ice that the Grand Slam of Curling hosts."

"It was a great experience for us."

For Dropkin, they were riding high into the US Men's Nationals, held in Spokane, Washington in February as the top-ranked US team.

"The year didn't quite end as we wanted it to at Men's Nationals."

'Every time you have one of those situations, there's a lot you can learn from. And really for us, we have a lot to take away from that week and being able to move forward with a lot of confidence as a team going into this year."

The Goldline US Open Contender begins Friday at 1 pm Central Time as CurlingZone will be providing coverage from the event.

John Benton, club manager at the Four Seasons Curling Club in Blaine, Minnesota has been working on building a series of events that will give teams great games close to home.

"What we are trying to achieve is a top level event [win the US Open held in January], equal to some of the bigger events in Canada," Benton went on, talking about his vision for the main US Open event.

"We had some varying success with that, three years ago was our best field."

"Since then, I've decided that I really want to expand the opportunity for more US teams to get high-quality games."

"Building out the Contender last year it became a qualifying event for B level teams."

The top four teams from each contender event would have advanced to the US Open main event held around New Year's weekend.

"That was the first time we did it last year and it went pretty well. Well enough that we would continue it and as an extension, we've taken a foray into Mixed Doubles."



The pandemic changed the strategy for a number of events, including the Goldline US Open Contender.

"Being that events right now are not garnering any points for anybody, it didn't make much sense to advance teams to the championships."

"So this is an event built to give US Teams a chance to play. It's really difficult with the travel restrictions, and everything that's happened so far and teams are just looking for a way to get on the ice and a way to get on the ice safely."


"Safety was a big concern as far as even running this event, or any event."

"That last thing we wanted to do is incentivize teams to travel or come to a place they didn't feel safe coming to."

Scores and streaming coverage will be available on CurlingZone all weekend, please follow along on our social media on Facebook or twitter for more updates.