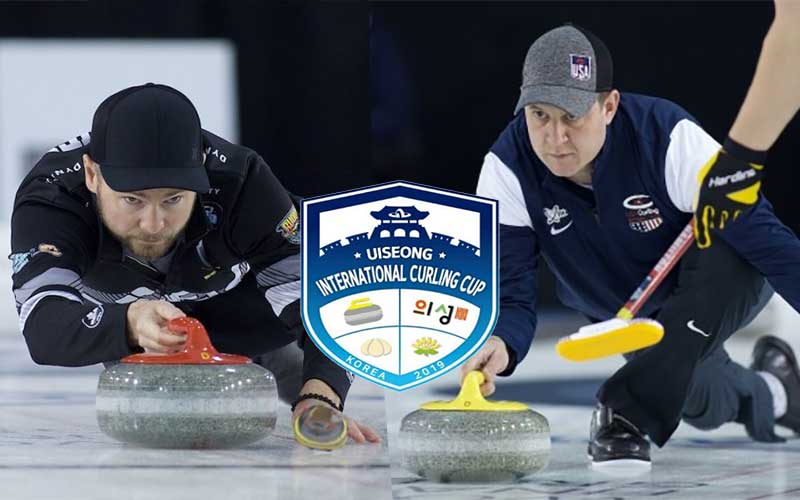 USA's John Shuster will play Mike McEwen of Canada in the final of the Uiseong International Curling Cup on Thursday at 4 am ET.

UISEONG, South Korea - It will be an all-North American battle for the Uiseong International Curling Cup trophy on the men's side with Canada's Team McEwen and the United States foursome of Team Shuster.

Shuster knocked off Ontario's Team McDonald 7-3 in seven ends to make their first World Curling Tour final since last December. The Americans grabbed a single in the first end before adding back-to-back steals to build a 5-0 advantage after just three ends of play.

"It's a good feeling to get out to an early lead and kind of control the game," lead Matt Hamilton said. "We got pretty fortunate enough to get a few misses out of them."

McEwen continued his red-hot play in Uiseong in leading the Manitoba rink to a dominant 11-2 win against Korea's Soo-hyuk Kim. Leading 1-0 after a pair of ends, McEwen then stole five in the third end en route to a comfortable win.

The two teams will meet in the men's final Thursday afternoon at 6:00 pm (local time) / 4 am ET. Earlier in the round-robin, McEwen defeated Shuster 4-2, so the Americans are looking for redemption in a rematch.

"We're looking forward to getting another crack at Mike, Reid and the boys," vice-skip Chris Plys said. "We're all playing pretty good without having practice ice back home; we're starting to dial in which gives us some confidence going into Portage next weekend, too."

On the women's side, it will be an all-Korean battle in one semifinal between Min Ji Kim and Eun Jung Kim, while the other women's semifinal - defending world champions Team Tirinzoni from Switzerland will matchup against Team Roth from the United States.

The winners will advance to tomorrow afternoon's final at 6:00 pm (local time).


WCT President Armin Harder discusses how the Uiseong International Curling Cup came together with support from the local government, the vast interest from the world class teams and its hopeful future here in Korea. #WCT #WorldCurlingTour pic.twitter.com/6ODHMHlsLl

— World Curling Tour (@worldcurltour) October 1, 2019


Check out worldcurl.com for live score updates as well as a look behind-the-scenes on social media.