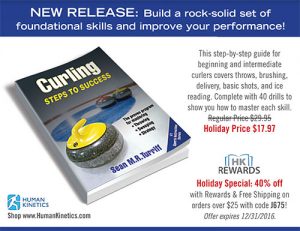 Build a rock-solid set of foundational skills and knowledge and improve performance with Curling: Steps to Success.
Internationally renowned coach Sean Turriff brings his extensive experience and expertise to Curling: Steps to Success, providing players and coaches with a practical, step-by-step format that develops and improves curlers' fundamental skill level and decision making. Supplemented by more than 90 photos and illustrations, the book covers essential curling skills such as throws, brushing, delivery, basic shots, and ice reading. Included are detailed explanations of the roles and responsibilities of each team member as well as practical check points for gauging players' mastery of skills and determining when to progress to more complex tactics and game strategies.
Whether you are just beginning or have experience on the sheet, the book's detailed photo sequences, expert instruction, and developmental drills will have you targeting the rock accurately and consistently in no time. Part of the popular Steps to Success series, which has sold more than two million copies worldwide, Curling: Steps to Success is your guide to on-the-sheet success.
"Sean Turriff is a curling coach! He lives it, breathes it, and is consumed by it. Even his social media hashtag is Love to Coach. He enjoys sharing his knowledge and having other coaches share with him. In Curling: Steps to Success, Sean has amassed a comprehensive drill book that every coach will find useful: those at the beginning stages of their curling careers and those at the highest levels of competition. Use Sean's drills and your team will improve its skills—guaranteed. This is the eight-ender of coaching manuals."
Jim Waite– National Coach Curling Canada
Regular price $29.97. Holiday Offer $17.97 with HK Rewards. Offer exp 12/31/2016.  Available at www.HumanKinetics.com , www.Amazon.ca, www.IndigoChapters.ca or your local bookstore.